To join or leave the listserv, visit https://scinfo.org/newsletter/
News
Terrific Teens (& Fabulous Families) – stories of resilience, love and creativity when living with sickle cell disease
By Claudia Gore
Storyteller, story-bringer, doctor, allergist, paediatrician, patient
Imagine an unbearable itch for 24 hours a day and couple this with having to watch what you eat for fear of having an allergic reaction, with not enjoying spring and summer because they make your eyes and nose and chest and skin much worse.
Imagine episodes of fierce pain, bone racking pain, breathing difficulties and couple this with having to watch that you drink enough, stay warm, don't catch infections.
Imagine either of these things, and then being judged because of it, of seeing the 'no clue' look on people's faces when they don't get why you have missed school or work again because of it.
You can't imagine it, not really.  I couldn't, with 20 years of experience as a paediatrician – who used to care for children and teenagers with sickle cell disease – when they came in with crisis. I couldn't even really imagine it for my patients now, those with severe multiple allergies.
After my own experiences as a patient, seeing the effect on my family, I decided that I simply had to give patients and their families a voice. In particular, I wanted to hear the voices of young adults, on their journey to independence – and that of their parents and families.
The Terrific Teens (& Fabulous Families) Project was generously funded by Imperial Health Charity and the North West London CLAHRC.
An amazing group of patients, parents, brothers and sisters (some of who were recruited by The Sickle Cell Society UK) joined our three day digital storytelling workshop and shared their journeys with us. Their voices, their 3-minute stories, give a moving insight into what it means to live with sickle cell – covering the body, mind and the social consequences of this disease.
Thank you to the families who so openly speak up – your stories are amazing. These stories on sickle cell (and if you would also like to find out, insight into life with serious allergies…) can be found at:
www.patientvoices.org.uk/terrificteens.htm
Please send all queries or comments to:
Email: iyamide.thomas@sicklecellsociety.org
Sickle Cell Disease: When to Transfuse
https://www.medscape.com/viewarticle/891436
Division of Blood Disorders at the Centers for Disease Control and Prevention
Listen: Why Don't You Hear More About Sickle Cell Disease?
https://khn.org/news/listen-why-dont-you-hear-more-about-sickle-cell-disease/
Jenny Gold, a Kaiser Health News senior correspondent, joined a panel of experts and patients to discuss sickle cell disease on "1A," the national affairs radio show hosted by Joshua Johnson. The conversation on Feb. 5 tackled how discrimination may affect the level of attention sickle cell disease receives and why only two drugs exist to treat a problem that afflicts about 100,000 Americans.
Listen to the show at the1a.org.
Gold's earlier reporting on sickle cell disease:
Antibiotic Prophylaxis for Children With Sickle Cell Anemia
Sarah L. Reeves, Alison C. Tribble, Brian Madden, Gary L. Freed, Kevin J. Dombkowski
BACKGROUND: Children with sickle cell anemia (SCA) are at increased risk for invasive pneumococcal disease; antibiotic prophylaxis significantly reduces this risk. We calculated the proportion of children with SCA who received ≥300 days of antibiotic prophylaxis and identified predictors of such receipt.
METHODS: Children aged 3 months to 5 years with SCA were identified by the presence of 3 or more Medicaid claims with a diagnosis of SCA within a calendar year (2005–2012) in Florida, Illinois, Louisiana, Michigan, South Carolina, and Texas. Receipt of antibiotics was identified through claims for filled prescriptions. The outcome, receipt of ≥300 days of antibiotics, was assessed annually by using varying classifications of antibiotics. By using logistic regression with generalized estimating equations, we estimated the odds of receiving ≥300 days of antibiotics, with potential predictors of age, sex, year, state, and health services use.
RESULTS: A total of 2821 children contributed 5014 person-years. Overall, only 18% of children received ≥300 days of antibiotics. Each additional sickle cell disease-related outpatient visit (odds ratio = 1.01, 95% confidence interval: 1.01–1.02) and well-child visit (odds ratio = 1.08, 95% confidence interval: 1.02–1.13) was associated with incrementally increased odds of receiving ≥300 days of antibiotics.
CONCLUSIONS: Despite national recommendations and proven lifesaving benefit, antibiotic prophylaxis rates are low among children with SCA. Numerous health care encounters may offer an opportunity for intervention; in addition, such interventions likely need to include social factors that may affect the ability for a child to receive and adhere to antibiotic prophylaxis.
Full article at http://pediatrics.aappublications.org/content/early/2018/02/01/peds.2017-2182
Emmaus Life Sciences Announces Medicaid Coverage of Endari™ (L-glutamine oral powder) for Sickle Cell Disease in the United States
https://www.businesswire.com/news/home/20180129005283/en/Emmaus-Life-Sciences-Announces-Medicaid-Coverage-Endari%E2%84%A2
Emmaus Life Sciences announced today that it has a Medicaid Drug Rebate Agreement with the Centers for Medicare & Medicaid Services allowing coverage of Endari (L-glutamine oral powder) to reduce the acute complications of sickle cell disease in adult and pediatric patients five years of age and older. All states currently provide coverage for outpatient prescription drugs under such agreements to all eligible Medicaid enrollees within their state Medicaid programs.
Endari is the first new treatment approved by the FDA for pediatric patients five years of age and older with sickle cell disease, and the first new treatment approved by the FDA in nearly 20 years for adult patients.1
"This treatment is considered very important by many providers and patients because of its excellent safety profile and the evidence of effectiveness from the phase III study that showed a reduction in acute chest syndrome, decreased occurrence of sickle crises and decreased frequency of hospitalizations in the Endari group compared to the placebo group," said Yutaka Niihara, MD, MPH, Chairman and CEO of Emmaus Life Sciences. "Having the Medicaid Drug Rebate Program in place will make Endari more accessible to patients who need it most."
FDA's approval of Endari is based on safety and effectiveness data from a randomized, double-blind, placebo-controlled, multi-center clinical trial of 230 patients ages 5 to 58 years old with sickle cell disease who had two or more painful crises within 12 months prior to enrollment. Patients who were treated with Endari over a 48-week period experienced fewer crisis episodes compared to patients who received a placebo (median 3 vs. median 4), fewer hospitalizations for sickle cell pain (median 2 vs. median 3), and fewer days in the hospital (median 6.5 days vs. median 11 days). Study patients on Endari also had fewer occurrences of acute chest syndrome, a life-threatening complication of sickle cell disease (8.6 percent vs. 23.1 percent). A sickle cell crisis was defined as a visit to an emergency room/medical facility for sickle cell disease-related pain treated with a parenterally administered narcotic or ketorolac; the occurrence of chest syndrome, priapism, and splenic sequestration were also considered sickle cell crises. The most common adverse reactions (incidence >10 percent) in clinical studies were constipation, nausea, headache, abdominal pain, cough, pain in extremity, back pain and chest pain.
Articles in the Medical Literature
Medicine (Baltimore). 2018 Feb;97(6):e9844. doi: 10.1097/MD.0000000000009844.
Organ damage mitigation with the Baskent Sickle Cell Medical Care Development Program (BASCARE).
Ozdogu H1,2, Boga C1,2, Asma S3, Kozanoglu I4, Gereklioglu C3, Yeral M1,2, Buyukkurt NT2, Solmaz S2, Korur A3, Aytan P1,2, Maytalman E1, Kasar M5.
Abstract
The Eastern Mediterranean is among the regions where sickle cell disease (SCD) is common. The morbidity and mortality of this disease can be postponed to adulthood through therapies implemented in childhood. The present study focuses on the organ damage-reducing effects of the Baskent Sickle Cell Medical Care Development Program (BASCARE), which was developed by a team who lives in this region and has approximately 25 years of experience. The deliverables of the program included the development of an electronic health recording system (PRANA) and electronic vaccination system; the use of low citrate infusion in routine prophylactic automatic erythrocyte exchange (ARCE) programs including pregnant women; the use of leukocyte-filtered and irradiated blood for transfusion; the use of magnetic resonance imaging methods (T2) for the management of transfusion-related hemosiderosis; and the implementation of an allogeneic hematopoietic stem cell transplantation protocol for adult patients. The sample was composed of 376 study subjects and 249 control subjects. The hospital's Data Management System and the central population operating system were used for data collection. BASCARE enabled better analysis and interpretation of complication and mortality data. Vaccination rates against influenza and pneumococcal disease improved (21.5% vs 50.8% and 21.5% vs 49.2%, respectively). Effective and safe ARCE with low citrate infusion were maintained in 352 subjects (1003 procedures). Maternal and fetal mortality was prevented in 35 consecutive pregnant patients with ARCE. Chelating therapy rates reduced from 6.7% to 5%. Successful outcomes could be obtained in all 13 adult patients who underwent allogeneic peripheral stem cell transplantation from a fully matched, related donor. No patients died by day 100 or after the first year. Cure could be achieved without graft loss, grades III to IV acute graft versus host disease, extensive chronic graft versus host disease, or other major complications. The BASCARE program significantly improved patient care and thereby prolonged the life span of SCD patients (42 ± 13 years vs 29 ± 7 years, P < .001). We may recommend using such individualized programs in centers that provide health care for patients with SCD, in accordance with holistic approach due to the benign nature but malignant course of the disease.
Free Article
PMID: 29419693
Mil Med. 2018 Feb 5. doi: 10.1093/milmed/usx085. [Epub ahead of print]
Risk of Exertional Heat Illnesses Associated with Sickle Cell Trait in U.S. Military.
Singer DE1, Byrne C1, Chen L1, Shao S1,2, Goldsmith J3, Niebuhr DW1.
Abstract
Introduction:
A number of studies have found an association between sickle cell trait (SCT) and exertional heat illnesses (EHIs) including heat stroke, a potentially fatal condition. The strength of this association varied across studies, limiting the ability to quantify potential benefits of SCT-screening policies for competitive athletics and military service members. We determined the relative rate and attributable risk of developing EHI associated with being SCT positive and the EHI health care utilization.
Methods:
We conducted a retrospective cohort study among U.S. enlisted, active duty service members during 1992-2012 from the Department of Defense Military Healthcare System databases. All 15,081 SCT-positive individuals and a sample of 60,320 from those considered SCT negative were followed through 2013 for EHI outcomes ranging from mild heat illness to heat stroke.
Results:
The adjusted hazard ratio for EHI in SCT-positive compared with SCT-negative individuals was 1.24 (95% confidence interval 1.06, 1.45). Risk factors for EHI included age over 30 yr at enlistment, female gender, Marine Corps, combat occupations, and enlistment between April and June. An estimated 216 Department of Defense enlistees (95% confidence interval: 147, 370) would need to be screened to identify and potentially prevent one case of EHI. The attributable risk of EHI due to SCT was 33% (95% confidence interval 19, 45%).
Conclusion:
Our findings suggest that SCT screening will identify approximately a third of SCT individuals at risk for EHI, but does not provide definitive evidence for universal compared with selective (e.g., occupational based) in military enlistees. A cost-effectiveness analysis is needed for policy makers to assess the overall value of universal SCT screening to prevent morbidity and mortality in both the military and the collegiate athletic populations.
PMID: 29415213
Bone Marrow Transplant. 2018 Feb 5. doi: 10.1038/s41409-018-0111-y. [Epub ahead of print]
Allogenic peripheral stem cell transplantation from HLA-matched related donors for adult sickle cell disease: remarkable outcomes from a single-center trial.
Ozdogu H1, Boga C2, Yeral M1, Kozanoglu I3, Gereklioglu C4, Aytan P1, Kasar M5, Asma S4, Buyukkurt N1, Solmaz S1, Korur A4, Sariturk C6.
Abstract
Adult patients with sickle cell disease (SCD) are highly susceptible to stem cell transplant complications, including drug toxicity, graft versus host disease (GVHD), and graft rejection due to SCD-related tissue damage, endothelial activation, and inflammation. The scarcity of compatible stem cells for transplantation further limits treatment options, with only 43 cases of adult allogeneic peripheral blood stem cell transplantation (allo-PSCT) from human leukocyte antigen (HLA)-identical sibling donors reported in the international registry for the period 1986-2013. Herein we report remarkable outcomes in a cohort of adult SCD patients who underwent allo-PSCT using a fludarabine (Flu), busulfan (Bu), and anti-T-cell lymphocyte globulin (ATG)-based conditioning regimen in combination with very low dose total body irradiation (TBI), followed by post-transplant cyclophosphamide (Cy) and sirolimus as GVHD prophylaxis. We performed a single-center, retrospective study consisting of 20 consecutive patients (mean age 33.4 years) who underwent allo-PSCT from HLA-matched related donors with a conditioning regimen of Flu 150/Bu 3.2/Cy 29/ATG 30 (Fresenius)/TBI 200 between September 2013 and September 2017. Data were validated by an independent data audit group of the affiliated JACIE-accredited transplantation center. All patients experienced a sustained donor cell engraftment. Full donor chimerism (total cell) occurred within 180 days in all patients. Mean duration of follow-up was 13.8 months (range: 0.3-50 months), with 12 (60%) patients completing 12 months. No non-relapse mortality or graft rejection occurred. Successful treatment was achieved without the presence of graft loss, grade III-IV acute GVHD, extensive chronic GVHD, or other major complications. Allo-PSCT in combination with Flu 150/Bu 3.2/Cy 29/ATG 30(Fresenius)/TBI 200- Cy/Sirolimus therapy yielded encouraging outcomes with no mortality and low incidence of GVHD. Further controlled studies will be necessary to compare transplant protocols and long-term outcomes.
PMID: 29403023
Hematol Oncol Stem Cell Ther. 2018 Jan 31. pii: S1658-3876(18)30002-5. doi: 10.1016/j.hemonc.2018.01.001. [Epub ahead of print]
Beliefs about hydroxyurea in youth with sickle cell disease.
Badawy SM1, Thompson AA2, Liem RI2.
Abstract
BACKGROUND:
Hydroxyurea reduces complications and improves health-related quality of life (HRQOL) in sickle cell disease (SCD) patients, however adherence remains suboptimal. Understanding patients' views of hydroxyurea is critical to optimize adherence, particularly in adolescents and young adults (AYA). Study objectives were to assess beliefs about hydroxyurea using the Beliefs about Medicines Questionnaire (BMQ), and to examine the relationship of patients' beliefs to their hydroxyurea adherence and HRQOL.
METHODS:
Thirty-four AYA with SCD participated in a cross-sectional study January-December 2015. Study assessments included BMQ to examine beliefs about hydroxyurea; Visual Analogue Scale (VAS) to assess hydroxyurea adherence; and Patient Reported Outcomes Measurement Information System (PROMIS®) to evaluate HRQOL.
RESULTS:
Participants (41% female, 91% Black) had median age of 13.5 (IQR 12-18) years. Participants' concerns about overuse of medications correlated with concerns about hydroxyurea (rs = 0.36, p = 0.04) and overall harm of medications (rs = 0.5, p = 0.003). Participants' age positively correlated with the necessity of hydroxyurea (rs = 0.45, p = 0.007). Participants' concerns about hydroxyurea and overuse of medications positively correlated with anxiety (rs = 0.41, p = 0.02; rs = 0.44, p = 0.01) and depression (rs = 0.37, p = 0.04; rs = 0.54, p = 0.001), but inversely correlated with peer relationships (rs = -0.45, p = 0.03; rs = -0.44, p = 0.03), respectively, suggesting better HRQOL with concerns. Fifty percent of participants reported low hydroxyurea adherence (VAS < 80%), which was more seen in patients with higher concerns about hydroxyurea (p = 0.02).
CONCLUSIONS:
Beliefs about hydroxyurea correlated with HRQOL scores and adherence levels. Addressing patients' concern about hydroxyurea and medications overall as well as routine assessment of adherence and beliefs could help to overcome adherence barriers.
Copyright © 2018. Published by Elsevier B.V.
Free Article
PMID: 29397333
J Clin Med. 2018 Jan 30;7(2). pii: E14. doi: 10.3390/jcm7020014.
Prevalence of Vitamin D Deficiency Varies Widely by Season in Canadian Children and Adolescents with Sickle Cell Disease.
Samson KLI1,2, McCartney H3, Vercauteren SM4,5,6, Wu JK7,8,9, Karakochuk CD10,11.
Abstract
Sickle cell disease (SCD) is an inherited disorder caused by a variant (rs334) in the β-globin gene encoding hemoglobin. Individuals with SCD are thought to be at risk of vitamin D deficiency. Our aim was to assess serum 25-hydroxyvitamin D (25OHD) concentrations, estimate deficiency prevalence, and investigate factors associated with 25OHD concentrations in children and adolescents with SCD attending BC Children's Hospital in Vancouver, Canada. We conducted a retrospective chart review of SCD patients (2-19 y) from 2012 to 2017. Data were available for n = 45 patients with n = 142 25OHD measurements assessed using a EUROIMMUN analyzer (EUROIMMUN Medizinische Labordiagnostika AG, Lübeck, Germany). Additional data were recorded, including age, sex, and season of blood collection. Linear regression was used to measure associations between 25OHD concentration and predictor variables. Overall, mean ± SD 25OHD concentration was 79 ± 36 nmol/L; prevalence of low 25OHD concentrations (<30, <40, and <75 nmol/L) was 5%, 17% and 50%, respectively. Mean 25OHD concentrations measured during Jul-Sep were higher (28 (95% confidence interval CI: 16-40) nmol/L higher, P < 0.001) compared to Jan-Mar. Vitamin D deficiency rates varied widely by season: Based on 25OHD <30 nmol/L, prevalence was 0% in Oct-Dec and 6% in Jan-Mar; based on <40 nmol/L, prevalence was 0% in Oct-Dec and 26% in Jan-Mar.
Free Article
PMID: 29385701
Int Urol Nephrol. 2018 Jan 30. doi: 10.1007/s11255-018-1803-3. [Epub ahead of print]
Sickle cell nephropathy: an update on pathophysiology, diagnosis, and treatment.
Hariri E1, Mansour A2, El Alam A2, Daaboul Y3, Korjian S4, Aoun Bahous S5,6.
Sickle cell nephropathy is a major complication of sickle cell disease. It manifests in different forms, including glomerulopathy, proteinuria, hematuria, and tubular defects, and frequently results in end-stage renal disease (ESRD). Different pathophysiologic mechanisms have been proposed to explain the development of nephropathy in SCD, where hemolysis and vascular occlusion are the main contributors in the manifestations of this disease. Markers of renal injury, such as proteinuria and tubular dysfunction, have been associated with outcomes among patients with sickle cell nephropathy and provide means for early detection of nephropathy and screening prior to progression to renal failure. In small-sized clinical trials, hydroxyurea has demonstrated to be effective in slowing the progression to ESRD. Dialysis and renal transplantation represent the last resort for patients with sickle cell nephropathy. Nevertheless, despite the availability of diagnostic and therapeutic strategies, sickle cell nephropathy remains a challenging and under-recognized complication for patients with sickle cell disease.
PMID: 29383580
Children (Basel). 2018 Jan 29;5(2). pii: E17. doi: 10.3390/children5020017.
Utility of Non-Invasive Monitoring of Cardiac Output and Cerebral Oximetry during Pain Management of Children with Sickle Cell Disease in the Pediatric Emergency Department.
Padmanabhan P1, Oragwu C2, Das B3, Myers JA4, Raj A5.
Abstract
Pain crisis in children with sickle cell disease (SCD) is typically managed with intravenous fluids and parenteral opioids in the pediatric emergency department. Electrical cardiometry (EC) can be utilized to measure cardiac output (CO) and cardiac index (CI) non-invasively. Near-infrared spectroscopy (NIRS) measuring cerebral (rCO₂) and splanchnic regional (rSO₂) mixed venous oxygenation non-invasively has been utilized for monitoring children with SCD. We studied the value and correlation of NIRS and EC in monitoring hemodynamic status in children with SCD during pain crisis. We monitored EC and NIRS continuously for 2 h after presentation and during management. Forty-five children participated in the study. CO (D = 1.72), CI (D = 1.31), rSO₂ (D = 11.6), and rCO₂ (D = 9.3), all increased over time. CO max and CI max were achieved 1 h after starting resuscitation. rCO₂ max attainment was quicker than rSO₂, as monitored by NIRS. CI max correlated with rCO₂ max (r = -0.350) and rSO₂ max (r = -0.359). In adjustment models, initial CI significantly impacted initial rCO₂ (p = 0.045) and rCO₂ max (p = 0.043), while initial CO impacted rCO₂ max (p = 0.030). Cardiac output monitoring and NIRS monitoring for cerebral and splanchnic oxygenation were feasible and improved the monitoring of therapeutic interventions for children with SCD during pain crisis.
Free Article
PMID: 29382114
Br J Haematol. 2018 Feb;180(4):607-617. doi: 10.1111/bjh.15115. Epub 2018 Jan 29.
How I manage red cell transfusions in patients with sickle cell disease.
Rees DC1, Robinson S2, Howard J2.
Abstract
Sickle cell disease is one of the commonest serious inherited diseases in the world, and red cell transfusion is still one of the few effective treatments for acute and chronic complications. Transfusion corrects anaemia and dilutes out the number of red cells able to cause vaso-occlusion and vascular damage. Urgent red cell transfusions are used to correct acute anaemia, treat acute chest syndrome and patients with acute neurological symptoms. We use elective transfusions preoperatively for moderate risk surgery, and in some pregnant women. There is good evidence for the use of long-term regular transfusions in primary stroke prevention, with the aim of keeping the percentage of sickle haemoglobin below 30%. Long-term transfusions are also used in secondary stroke prevention, and the management of progressive organ damage, including renal impairment and pulmonary hypertension. Blood needs to be matched for ABO, RH and Kell, although alloantibodies may still develop and require more careful, extended cross-matching. Delayed haemolytic transfusion reactions are relatively common, difficult to diagnose and manage, and potentially fatal.
PMID: 29377071
Rheumatology (Sunnyvale). 2017;7(3). pii: 225. doi: 10.4172/2161-1149.1000225. Epub 2017 Sep 12.
Rheumatoid Arthritis in Sickle-Cell Population: Pathophysiologic Insights, Clinical Evaluation and Management.
McFarlane IM1, Ozeri DJ2, Saperstein Y1, Alvarez MR1, Leon SZ1, Koci K1, Francis S1, Singh S1, Salifu M1.
Abstract
The advent of hydroxyurea and advanced medical care, including immunizations has led to improved survival among patients with Sickle Cell Disease (SCD). This prolonged survival however, introduces a chronic inflammatory disorder, Rheumatoid Arthritis (RA), which presents at a relatively older age and is rarely reported among SCD patients. In this review, we highlight the epidemiological association of SCD-RA and discuss the underlying common pathogenetic mechanisms, such as endothelial dysfunction, the role of inflammatory cytokines and oxidative stress. We also point to the difficulties in ascertaining the clinical diagnosis of RA in SCD patients. Finally, we provide rationale for therapeutic options available for RA and the challenges in the management of these patients with agents that are known to increase the risk of infection and immunosuppression such as steroids, disease modifying anti-rheumatic drugs and biologics.
PMCID: PMC5784436 Free PMC Article
PMID: 29375934
J Gen Intern Med. 2018 Jan 26. doi: 10.1007/s11606-017-4289-2. [Epub ahead of print]
Do Words Matter? Stigmatizing Language and the Transmission of Bias in the Medical Record.
P Goddu A1, O'Conor KJ2, Lanzkron S3, Saheed MO4, Saha S5,6, Peek ME7, Haywood C Jr.3, Beach MC2.
Abstract
BACKGROUND:
Clinician bias contributes to healthcare disparities, and the language used to describe a patient may reflect that bias. Although medical records are an integral method of communicating about patients, no studies have evaluated patient records as a means of transmitting bias from one clinician to another.
OBJECTIVE:
To assess whether stigmatizing language written in a patient medical record is associated with a subsequent physician-in-training's attitudes towards the patient and clinical decision-making.
DESIGN:
Randomized vignette study of two chart notes employing stigmatizing versus neutral language to describe the same hypothetical patient, a 28-year-old man with sickle cell disease.
PARTICIPANTS:
A total of 413 physicians-in-training: medical students and residents in internal and emergency medicine programs at an urban academic medical center (54% response rate).
MAIN MEASURES:
Attitudes towards the hypothetical patient using the previously validated Positive Attitudes towards Sickle Cell Patients Scale (range 7-35) and pain management decisions (residents only) using two multiple-choice questions (composite range 2-7 representing intensity of pain treatment).
KEY RESULTS:
Exposure to the stigmatizing language note was associated with more negative attitudes towards the patient (20.6 stigmatizing vs. 25.6 neutral, p < 0.001). Furthermore, reading the stigmatizing language note was associated with less aggressive management of the patient's pain (5.56 stigmatizing vs. 6.22 neutral, p = 0.003).
CONCLUSIONS:
Stigmatizing language used in medical records to describe patients can influence subsequent physicians-in-training in terms of their attitudes towards the patient and their medication prescribing behavior. This is an important and overlooked pathway by which bias can be propagated from one clinician to another. Attention to the language used in medical records may help to promote patient-centered care and to reduce healthcare disparities for stigmatized populations.
PMID: 29374357
Nat Protoc. 2018 Feb;13(2):358-376. doi: 10.1038/nprot.2017.143. Epub 2018 Jan 25.
CRISPR/Cas9 genome editing in human hematopoietic stem cells.
Bak RO1, Dever DP1, Porteus MH1.
Abstract
Genome editing via homologous recombination (HR) (gene targeting) in human hematopoietic stem cells (HSCs) has the power to reveal gene-function relationships and potentially transform curative hematological gene and cell therapies. However, there are no comprehensive and reproducible protocols for targeting HSCs for HR. Herein, we provide a detailed protocol for the production, enrichment, and in vitro and in vivo analyses of HR-targeted HSCs by combining CRISPR/Cas9 technology with the use of rAAV6 and flow cytometry. Using this protocol, researchers can introduce single-nucleotide changes into the genome or longer gene cassettes with the precision of genome editing. Along with our troubleshooting and optimization guidelines, researchers can use this protocol to streamline HSC genome editing at any locus of interest. The in vitro HSC-targeting protocol and analyses can be completed in 3 weeks, and the long-term in vivo HSC engraftment analyses in immunodeficient mice can be achieved in 16 weeks. This protocol enables manipulation of genes for investigation of gene functions during hematopoiesis, as well as for the correction of genetic mutations in HSC transplantation-based therapies for diseases such as sickle cell disease, β-thalassemia, and primary immunodeficiencies.
PMID: 29370156
Sickle Cell Conferences and Events
The Sickle Cell Disease Association of America, Inc. will be hosting its third Community Health Worker Certification Training Program, with additional training on sickle cell disease.
Due to circumstances beyond our control, SCDAA is postponing the start date of the Community Health Worker Training.  The training was scheduled to begin Monday, January 29, 2018.  We are rescheduling this start date to Wednesday, February 21, 2018.
If you have any questions, please contact us at info@sicklecelldisease.org
The new dates are as follows:
| | |
| --- | --- |
| Date | Course Title |
| February 21 | Orientation |
| February 26 | Primary Health Care and Human Services 1.1 |
| February 28 | Primary Health Care and Human Services 1.2 |
| March 5 | Communication |
| March 7 | Patient Advocacy |
| March 12 | Community Health Education |
| March 14 | President's Day |
| March 19 | Capacity Building |
| March 21 | Services Skills and Responsibilities 1.1 |
| March 26 | Services Skills and Responsibilities 1.2 |
| March 28 | SCD 101 |
| April 2 | SCD 102 |
| April 4 | Study Session |
| April 11 | Final Exam |
The seven week training will be held via webinar, Mondays and Wednesdays from 12PM-5PM EST. In addition to the online coursework, trainees must complete 80 hours of fieldwork (40 hours in a medical institution and 40 hours in a community organization). They must also pass a final exam. The training costs are estimated to be $1200 ($800 for the course plus additional fees and expenses). SCDAA now offers a Sickle Cell Disease Community Health Worker Certification Program. This one-of-a-kind certification allows individuals to learn about the fundamentals of community health workers, as well as sickle cell disease.
What is a community health worker?
According to the American Public Health Association, a community health worker (CHW) is, "A frontline public health worker who is a trusted member of and/or has an unusually close understanding of the community served."
What qualities should a community health worker possess?
Connected to Community
Persistent, Creative and Resourceful
Empathic, Caring, Compassionate and Humble
Open-minded/Non-judgmental
Honest, Respectful, Patient, Realistic
Friendly, Engaging, Sociable
Dependable, Responsible, Reliable
Culturally sensitive, able to work with diverse communities
Who employs community health workers?
CHWs work in a variety of settings, which can include: hospitals, clinics, community-based organizations, health departments, payors, faith-based organizations, and many more.
How can community health workers help individuals with sickle cell disease?
Community health workers can assist individuals with sickle cell disease in a variety of ways. They may be asked to help identity and overcome barriers to care, such as transportation or childcare, navigate the healthcare system, assist with obtaining health insurance, conduct health education, reinforce healthy behaviors, or assist clients with other needs, as they arise.
How can I train to be a community health worker?
The Sickle Cell Disease Association of America offers a seven week sickle cell disease community health worker certification. The next training will begin on January 29, 2018. If you are interested you may download the application here https://server9.orbund.com/einstein-freshair/application/online_application_form.jsp?id=55&aid=9
For any additional questions, please contact Jessica Suggs at jsuggs@sicklecelldisease.org or call 410-528-1555.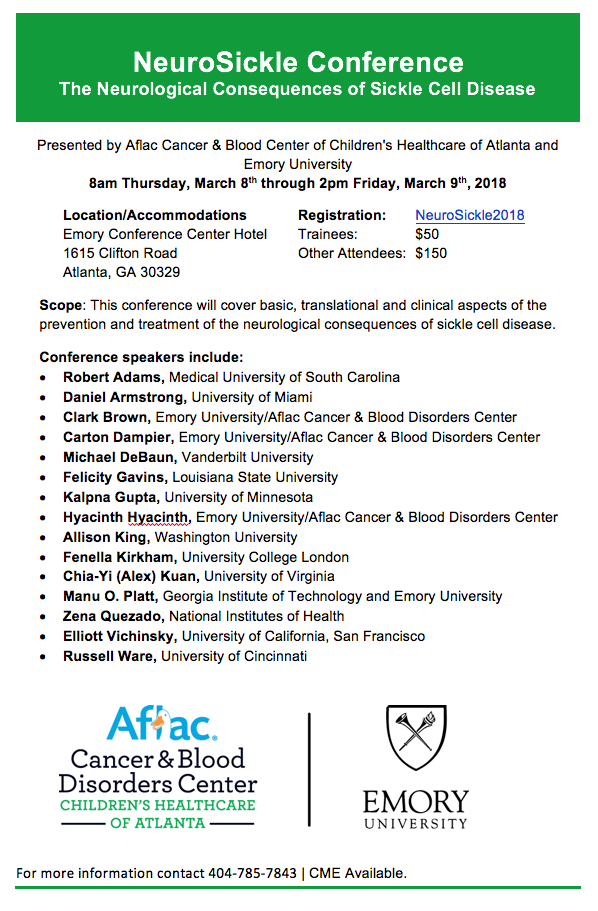 12TH ANNUAL SICKLE CELL DISEAE RESEARCH AND EDUCATIONAL SYMPOSIUM!
June 15 -17 WASHINGTON MARRIOTT WARDMAN PARK
2660 WOODLEY ROAD NW WASHINGTON, DC  20008