To join or leave the listserv, visit https://scinfo.org/newsletter/
News
The Centers for Disease Control and Prevention (CDC) is sharing new resources on transition to help teenagers and young adults with sickle cell disease (SCD) 'step up' and to take ownership of their own health.
These resources aim to support and to empower young people with SCD to manage and to prioritize their health and well-being.
Stepping Up: A 2-Part Video Series for Teenagers & Young Adults with SCD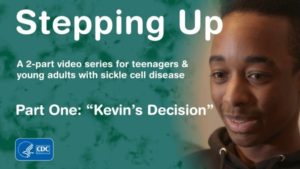 One of the resources is a new 2-part video series focusing on health care transition among teenagers and young adults living with SCD. The videos feature Kevin and Calvanay, two young adults with SCD, who share their thoughts about transition, how it has affected them, and how they've overcome challenges. Watch Kevin's (https://www.cdc.gov/ncbddd/sicklecell/materials/video.html?s_cid=ncbddd_sc_v1_ash_2018_6&#su-p1 ) and Calvanay's (https://www.cdc.gov/ncbddd/sicklecell/materials/video.html?s_cid=ncbddd_sc_v2_ash_2018_6&#su-p2 ) videos. Share these videos with a teenager or a young adult living with SCD to help support his or her transition!
"I really promote self-advocacy because you need to know yourself. If you don't know yourself, then who else does?…You have to teach others," said Calvanay about preparing for transition.
Mikeia Green's Personal Story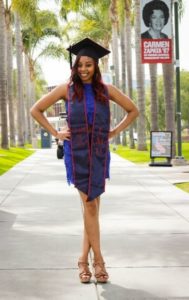 In 2012, Mikeia Green left home to attend college out of state. For most of her childhood, her mother made sure her SCD was well managed, but once she left for college it became Mikeia's responsibility to know her body's needs. Read how she managed her doctor's appointments, prepared herself for emergencies, and how she prioritized her health, school, activities, and a new social life to stay healthy in college.
"I knew there were a lot of things I could do to help myself stay healthy. I didn't want to end up in the hospital and miss class," said Mikeia Green about her experience managing SCD in college. When Mikeia left her home in Arizona to attend college in California, it was the first time she was away from her mother…"
Her full story will be available here: https://www.cdc.gov/ncbddd/sicklecell/stories.html
Help spread the word! Use the attached document to share messages and resources on websites and social media channels. Don't forget to follow us on Twitter @CDC_NCBDDD to stay-up-to-date on all of our activities!
We hope you find these materials useful as you engage your community in SCD awareness. Please forward this message and its attachment to individuals in your network, so they may collaborate with you on this important public health initiative.
Henrico twins with sickle cell disease take on Washington
https://www.wric.com/news/politics/capitol-connection/henrico-twins-with-sickle-cell-disease-take-on-washington/1271772367
Twin boys from the Richmond area are taking on your lawmakers to make sure kids who are in the hospital get the support they need from Washington.
Gabriel and Noah Cypress look like your average 9-year-olds. They love running around; Gabriel plays basketball and Noah is working on another original book.
But when they were born, mom LaToya Cypress says the doctors told them something shocking – the twins had sickle cell disease.
"The number of hospitalizations they've had, we stopped counting a long time ago. It's almost as common, or as normal, as going to the grocery store," she explained.
Sickle Cell Patients Suffer As Disparities In Care And Research Persist
http://wnpr.org/post/sickle-cell-patients-suffer-disparities-care-and-research-persist
The disease affects some 100,000 Americans, about one in 365 African Americans and one out of 16,300 Hispanics; and in lesser numbers, people with Middle Eastern, Indian, Caribbean and Mediterranean ancestries. An estimated 2,000 people in Connecticut have SCD.
But the disease—discovered over 100 years ago—receives little research, funding and attention.
Just two medications have been developed to treat the disease: hydroxyurea, approved in 1998; and Endari, approved in 2017.
There is no national data registry for tracking the disease.
Only four of the state's 27 acute care hospitals have sickle cell treatment programs. And the last SCD awareness program by the Department of Public Health (DPH) was in 2007.
A 2013 publication in the journal Bloodreported that cystic fibrosis, which affects 30,000 people nationally, receives seven to 11 times more funding per patient than sickle cell disease. The amyotrophic lateral sclerosis (ALS) challenge in 2014 raised more than $115 million for about 20,000 patients in the U.S. The bulk of the funds—$77 million—were allocated for research.
Sickle Cell Disease Association of America, Inc. Launches Get Connected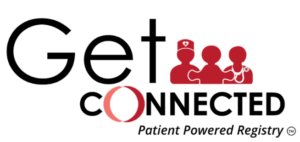 First Patient-Powered Registry for Sickle Cell Disease
Sickle Cell Disease Association of America, Inc. (SCDAA) is officially launching the first patient powered registry for sickle cell disease (SCD) that allows for the secure storage of health information that enables
patients to better navigate the health care system and to be counted, showing the number of people living with the disease and the significance of this public health issue.
On June 19, World Sickle Cell Day, SCDAA will launch a social media blitz about Get Connected, encouraging individuals to register.
Get Connected is intended for children and adults with SCD and their families, children and adults with sickle cell trait, health care providers, clinical researchers and advocacy organizations. It provides high quality information about clinical care, research and health advocacy issues related to sickle cell disease and sickle cell trait. It also improves access to disease specific health care and serves as a platform for research initiatives generated by the needs of the SCD patient population.
Since 2015, SCDAA has trained its community-based member organizations on Get Connected and the shared measurement system, and has encouraged them to promote the platform in their regions. As of June 5, 2018, 6,128 individuals are enrolled in Get Connected, and 4,984 of those enrolled are patients, 633 are individuals with trait and 511 are non-patients.
"We are very excited to officially launch Get Connected, the first patient powered registry for sickle cell disease, especially on World Sickle Cell Day," said SCDAA President/CEO Beverley Francis-Gibson. "This database provides a significant benefit for the sickle cell community and for our efforts to share information, resources, and to collect data that can be leveraged for advocacy, research and awareness efforts. We encourage individuals to register today."
Get Connected has several benefits, including:
Connects those affected by SCD to high quality resources for information on health care, behavioral health, clinical research, and other resources.
Establishes a secure network to share information related to clinical care, research, health services, policies, and advocacy.
Establishes patient-powered registry for secure storage of medical information related to diagnosis and treatment.
To register for Get Connected, visit www.GetConnectedSCD.org.
New Website Global Sickle Cell Disease Network (GSCDN)
https://www.globalsicklecelldisease.com/
After months of hard work I am very excited to share with you the new and improved Global Sickle Cell Disease Network website.  The new website is a platform of resources on sickle cell disease (SCD) treatment, education and research, specifically targeting low and middle-income countries (LMICs).
I would like to invite you to contribute to the GSCDN's resource library by sharing resources that are relevant to SCD treatment, education and research in LMICs. Please send resources to contact.gscdn@sickkids.ca.
As a top priority of the GSCDN, the new website includes a re-vamped interactive map of sickle cell disease (SCD) treatment centres around the world. The map is a unique resource that identifies locations of treatment centres and provides critical information such as clinical and laboratory services offered at each centre, and contact information at each site.
I kindly ask all centre contacts to review their site information and let us know if it needs to be updated. We also welcome new sites to be added to our map. Please email contact.gscdn@sickkids.ca for any questions related to the map. The GSCDN is on Twitter! Follow us @GlobalSCDN.  Join us on Twitter on Thursday June 14 as we launch our new website and on Tuesday June 19 as we celebrate World Sickle Cell Awareness Day! Please follow us and share the great news and content with your networks! I would like to thank everyone for their continued support in the Global Sickle Cell Disease Network.
With kind regards,
Isaac Odame
Medical Director, The Global Sickle Cell Disease Network
IASCNAPA SCHOLARSHIPS
The International Association of Sickle Cell Nurses and Professional Associates, Inc. (IASCNAPA)  has established a college scholarship program to assist individuals living with Sickle Cell Disease who attend an institution of higher learning in the United States.  Applicants for IASCNAPA's $1,000 Scholarships must be enrolled in, or have been accepted by, a recognized and accredited post- secondary school, including college, university, trade school, or other institution of higher learning. Curriculum choice, age, gender, race, ethnic background, religion and political affiliation will not be used in evaluating applications.  An active IASCNAPA member or a sickle cell disease medical provider must sponsor all applicants.  Applications are accepted from March 1 through July 1 of each year. Awards will be given in August of each year. The number of scholarships awarded each year is dependent on available funds and the quality of applications.
IASCNAPA's funded scholarship awards include:
The Steven Christy Scholarship Fund was established by his wife in memory of her husband, an individual who lived with sickle cell disease and valued education. He struggled to complete college, but persevered and graduated from Fitchburg State University. He spent his career helping others – first as a social worker at Favarh and then as a counselor and coordinator of newborn hemoglobinopathy screening programs at the combined UCONN/St. Francis sickle cell clinic.
The Christine A. Johnson Scholarship Fund was established by the friends of Dr. Christine A. Johnson in her honor. Dr. Christine A Johnson was a provider and advocate for people with sickle cell disease for most of her adult career. She was the founder and Director of the Pediatric Sickle Cell Program at Wake Forest Baptist Medical Center, and an advocate for sickle cell disease for 30 years.
For more information, to donate to the scholarship fund, or to apply for the scholarship, go to www.Iascnapa.org
New video teaching course for CEU/CME
REDUCING COMPLICATIONS OF THERAPEUTIC BLOOD TRANSFUSION IN SICKLE CELL DISEASE at http://ghpc.gsu.edu/cme-course-introduction/
Articles in the Medical Literature
The Anticipatory Politics of Improving Childhood Survival for Sickle Cell Disease Science, Technology and Human Values
http://journals.sagepub.com/doi/abs/10.1177/0162243918778342?journalCode=sthd
The article involves social theory, but also incorporates oral histories from longtime researchers in the field. I hope it may eventually be helpful to a broader audience. There are licensing restrictions, but I am allowed to provide a copy directly to interested parties for personal / non-commercial use.
Gina Jae ginajae@gmail.com or gj2008@columbia.edu
PLoS One. 2018 Jun 27;13(6):e0199375. doi: 10.1371/journal.pone.0199375. eCollection 2018.
From trust to skepticism: An in-depth analysis across age groups of adults with sickle cell disease on their perspectives regarding hydroxyurea.
Sinha CB1, Bakshi N1,2,3,4, Ross D1,3,4, Krishnamurti L1,2,3,4.
Abstract
Despite its efficacy, the uptake of HU in adults with sickle cell disease (SCD) is poor likely due to a combination of system, provider, and patient-related factors. We investigated attitudes of adult patients towards HU by conducting qualitative interviews with 95 adult SCD patients (age 18 to 67 years old, 71 were female). While 53% of all participants reported that they were currently taking HU, patients ranging in age 18-30 years (Group 1) were more likely to report current HU use as compared to those (Group 2) ranging in age 31-67 years (65% vs. 41% P = 0.01). Most Group 1 participants who reported currently taking HU indicated that the decision to start HU was made by a parent, though some made the decision themselves as a young adult. Group 1 participants expressed trust in the efficacy of HU as well as trust that their physician adequately shared risks and benefits for the medication. The Group 2 participants, who were not currently on HU, were skeptical that all the risks and benefits of HU were known, were concerned that the efficacy of HU was not proven, and that they were not receiving complete information about its potential side effects. Of Group 2 participants who reported currently being on HU, 25% were concerned about the side effects and efficacy of HU and reported continuing HU because of a lack of effective alternatives. These data suggest that there are significant differences by age in adult SCD patients' attitudes towards, utilization and understanding of the risks and benefits of HU.
PMID: 29949647
Proc Natl Acad Sci U S A. 2018 Jun 26. pii: 201804388. doi: 10.1073/pnas.1804388115. [Epub ahead of print]
Resistance to Plasmodium falciparum in sickle cell trait erythrocytes is driven by oxygen-dependent growth inhibition.
Archer NM1,2, Petersen N1,2, Clark MA2, Buckee CO3, Childs LM4, Duraisingh MT5.
Abstract
Sickle cell trait (AS) confers partial protection against lethal Plasmodium falciparum malaria. Multiple mechanisms for this have been proposed, with a recent focus on aberrant cytoadherence of parasite-infected red blood cells (RBCs). Here we investigate the mechanistic basis of AS protection through detailed temporal mapping. We find that parasites in AS RBCs maintained at low oxygen concentrations stall at a specific stage in the middle of intracellular growth before DNA replication. We demonstrate that polymerization of sickle hemoglobin (HbS) is responsible for this growth arrest of intraerythrocytic P. falciparum parasites, with normal hemoglobin digestion and growth restored in the presence of carbon monoxide, a gaseous antisickling agent. Modeling of growth inhibition and sequestration revealed that HbS polymerization-induced growth inhibition following cytoadherence is the critical driver of the reduced parasite densities observed in malaria infections of individuals with AS. We conclude that the protective effect of AS derives largely from effective sequestration of infected RBCs into the hypoxic microcirculation.
PMID: 29946035
Conflict of interest statement
The authors declare no conflict of interest.
Blood. 2018 Jun 12. pii: blood-2018-03-834440. doi: 10.1182/blood-2018-03-834440. [Epub ahead of print]
L-glutamine for sickle cell anemia: more questions than answers.
Quinn CT1.
Abstract
In 2017, the Food and Drug Administration (FDA) approved two medications for sickle cell anemia (SCA): hydroxyurea for children (≥2 years of age) and L-glutamine for children and adults (≥5 years). The approval of hydroxyurea for children was long overdue, having been authorized by the FDA for adults in 1998 and by the European Medicines Agency for adults and children in 2007, but the approval of L-glutamine was a surprise to many in the field. There are few published studies of L-glutamine as a treatment for SCA, so all can be reviewed in this brief manuscript. Accordingly, there are many unanswered questions about L-glutamine and its role in current therapy for SCA.
PMID: 29895661
Mil Med. 2018 Jun 8. doi: 10.1093/milmed/usy125. [Epub ahead of print]
Association Between Sickle Cell Trait With Selected Chronic Medical Conditions in U.S. Service Members.
Niebuhr DW1, Chen L1, Shao S1,2, Goldsmith J3, Byrne C1, Singer DE1.
Abstract
Introduction:
Sickle cell trait (SCT), the heterozygous carrier state for hemoglobin S, is present in an estimated 1.6% of all newborns and 7.3% in black individuals in the USA. SCT has long been considered a benign condition with anticipated normal life expectancy and no increased risk for chronic diseases. The medical literature is inconclusive on the potential association between SCT and chronic medical conditions (CMC) including chronic kidney disease, venous thromboembolism, and stroke. Studies addressing these questions are lacking particularly in non-Black young adults.
Materials and Methods:
We conducted a retrospective cohort study among U.S. active duty, enlisted, service members who entered from 1992 to 2012 using existing Department of Defense (DoD Military Healthcare System databases). SCT positive subjects (1,323) were matched by demographic characteristics to SCT negative subjects (3,136) and followed through 2013 for CMC that included deep vein thrombosis, diabetes mellitus and hematologic, pulmonary, and renal conditions.
Results:
The rate of developing any of the included CMC was higher for those with SCT (incidence rate ratio = 1.71 95% CI 1.61-1.81) compared with those who were SCT negative and their healthcare utilization rate for any of CMC studied was higher for SCT positive compared with negative individuals (URR = 2.45 95% CI 2.41-2.50), with the highest rate ratios observed for hematologic and renal conditions. SCT positive compared with negative individuals were more likely to have encounter diagnoses of sickle cell disease and diabetes Type II and were less likely to have encounter diagnoses of other hemoglobinopathies and diabetes type I.
Conclusion:
SCT in these racially diverse, young adults increased both the incidence of and healthcare utilization for thromboembolism, diabetes mellitus type II, sickle cell disease, pulmonary, and chronic renal conditions. These findings suggest that clinicians treating young adults with SCT should exercise heightened surveillance for these CMC to ensure both early diagnosis and access to treatments.
PMID: 29889287
J Nucl Med. 2018 Jun 7. pii: jnumed.118.211466. doi: 10.2967/jnumed.118.211466. [Epub ahead of print]
Abnormal Ventilation-Perfusion Scan is Associated with Pulmonary Hypertension in Sickle Cell Adults.
Mehari A1, Igbineweka N Dr1, Allen D1, Nichols J1, Thein SL1, Weir NA1.
Abstract
Pulmonary hypertension (PH) in adults with sickle cell disease (SCD) is associated with early mortality. Chronic thromboembolic pulmonary hypertension (CTEPH) is an important complication and contributor to PH in SCD, but likely underappreciated. Guidelines recommend ventilation-perfusion scintigraphy (V/Q) as imaging modality of choice to exclude CTEPH. Data on V/Q are limited in SCD. Objective: To compare the performance of V/Q with computed tomography pulmonary angiography (CTPA) and to report clinical outcomes associated with abnormal V/Q. Methods: Laboratory data, echocardiography, six-minute walk test, V/Q, CTPA, and right heart catheterization (RHC) were prospectively obtained. High-probability and intermediate-probability V/Q scan findings were considered to be abnormal. Participants: 142 SCD adults (aged 40.1±13.7 years, 83 women, 87% HbSS) in stable state enrolled consecutively between March 13, 2002 and June 8, 2017 were included for analysis. Results: V/Q scan was abnormal in 65/142 (45.8%). CTPA was positive for pulmonary embolism in 16/60 (26.7%). RHC confirmed PH (mean pulmonary artery pressure (mPAP) ≥25mmHg) in 46/64 (71.9%), of which 34 (73.9%) had abnormal V/Q. Among those without PH by RHC (n = 18), 2/18 patients showed abnormal V/Q. Thirty-three patients had a complete dataset of V/Q, CTPA and RHC; 29/33 had abnormal RHC, of which 26/29 had abnormal V/Q compared to 11/29 with abnormal CTPA. There was a greater concordance of V/Q with RHC (kappa value =0.53; p<0.001) compared to CTPA with RHC (kappa value =0.13; P = 0.065). The sensitivity and specificity for V/Q was 89.7% and 75.0% respectively, whereas CTPA had sensitivity 37.3% and specificity 100%. Abnormal V/Q was associated with hemodynamic severity (mPAP = 35.2±9.6 vs. 26.9±10.5 mmHg, P = 0.002; transpulmonary gradient 21.5±9.7 vs. 12.16±11mmHg, P = 0.005, and pulmonary vascular resistance=226.5±135 vs.140.7±123.7 dynes.s.cm-5, P = 0.013), and lower exercise capacity (6MWD 382.8±122.3 vs. 442.3±110.6m, p<0.010). Thirty-four deaths were observed over 15 years. All-cause mortality was higher in the abnormal V/Q (21(61.8%)) compared to normal V/Q (13(38.2%)) group (log-rank test, P = 0.006, Hazard Ratio=2.54). Conclusion: V/Q scan is superior to CTPA in detecting thrombotic events in SCD. Abnormal V/Q is associated with PH, worse hemodynamics, lower functional capacity and increased mortality. Despite the high sensitivity of the V/Q scan in detecting CTEPH it is underutilized. We recommend the use of V/Q in the evaluation of dyspnea in SCD adults given the important implications in management.
PMID: 29880507
Cytotherapy. 2018 May 30. pii: S1465-3249(18)30486-9. doi: 10.1016/j.jcyt.2018.04.003. [Epub ahead of print]
Gene therapy for sickle cell disease: An update.
Demirci S1, Uchida N1, Tisdale JF2.
Sickle cell disease (SCD) is one of the most common life-threatening monogenic diseases affecting millions of people worldwide. Allogenic hematopietic stem cell transplantation is the only known cure for the disease with high success rates, but the limited availability of matched sibling donors and the high risk of transplantation-related side effects force the scientific community to envision additional therapies. Ex vivo gene therapy through globin gene addition has been investigated extensively and is currently being tested in clinical trials that have begun reporting encouraging data. Recent improvements in our understanding of the molecular pathways controlling mammalian erythropoiesis and globin switching offer new and exciting therapeutic options. Rapid and substantial advances in genome engineering tools, particularly CRISPR/Cas9, have raised the possibility of genetic correction in induced pluripotent stem cells as well as patient-derived hematopoietic stem and progenitor cells. However, these techniques are still in their infancy, and safety/efficacy issues remain that must be addressed before translating these promising techniques into clinical practice.
PMID: 29859773
Pediatr Blood Cancer. 2018 Jun 1:e27274. doi: 10.1002/pbc.27274. [Epub ahead of print]
A novel approach to reducing admissions for children with sickle cell disease in pain crisis through individualization and standardization in the emergency department.
Schefft MR1, Swaffar C2, Newlin J1, Noda C3, Sisler I1.
Abstract
BACKGROUND:
Vaso-occlusive crisis (VOC) is frequent in children with sickle cell disease (SCD) creating significant burden on patients, families, and emergency departments (ED). The objective of the project was to reduce the admission rate for children with SCD presenting to our ED with VOC by >20% within 6 months of initiating individualized pain plans (IPP).
METHODS:
A multi-disciplinary quality improvement team was assembled. A Plan-Do-Study-Act (PDSA) format was employed. The IPP document was created in a unique folder within the electronic medical record. IPPs were created through retrospective chart review for our 80 highest resource users. Pediatric residents, ED residents, and ED attending physicians were instructed on use of the IPPs. Our study measured the presence of an IPP, adherence to the IPP, and time to opiate administration. Our primary outcome was admission rate. Length of stay and 72-hr return to the ED were assessed as balancing measures.
RESULTS:
Overall, admission rate decreased by 24% following implementation compared with the previous 5 years (P = 0.046). IPPs were created for 78% of patients and followed by ED staff in 86% of visits. Admission rate was significantly lower for patients receiving a second opiate dose within 45 min of the first dose (P < 0.01). There was no difference in readmission rate or 72-hr return rate to ED.
CONCLUSIONS:
This study presents an effective strategy to reduce admission rate for children with SCD presenting with VOC. Shorter time to second opiate dosing was also associated with reduced risk of admission.
© 2018 Wiley Periodicals, Inc.
PMID: 29856534
Hematology. 2018 May 31:1-8. doi: 10.1080/10245332.2018.1479997. [Epub ahead of print]
Predictive factors of daily opioid use and quality of life in adults with sickle cell disease.
Karafin MS1,2, Singavi A3, Hussain J4, Wandersee N1, Heinrich T5, Hurley RW6, Zhang L7, Simpson P7, Field JJ1,3.
Abstract
OBJECTIVES:
In adults with sickle cell disease (SCD), pain often necessitates opioid use. Few studies have examined the relationship between opioid use and health-related quality of life (HRQOL) in adults with SCD. We tested the hypothesis that higher doses of opioids are associated with worse HRQOL.
METHODS:
A cross-sectional cohort study was performed in adults with SCD who completed standardized and validated HRQOL questionnaires: Patient Health Questionnaire-15 (PHQ-15), Patient Health Questionnaire-9 (PHQ-9), Medical Outcome Study 36 Item Short Form (SF-36), and Generalized Anxiety Disorder questionnaire (GAD-7). Daily outpatient opioid dose was converted into morphine milligram equivalents (MME) and categorized as < 90 mg/day or ≥ 90 mg/day. Subject's questionnaire scores were compared by opioid dose.
RESULTS:
Ninety-nine adults completed questionnaires. The majority had HbSS and median age was 30 years. The median MME was 80 mg/day. When the association between HRQOL and opioid dose was compared, those prescribed ≥ 90 MME had significantly lower SF-36 subscale scores in 7 of 8 domains, and significantly higher severity scores in the PHQ-15, GAD-7, and the PHQ-9 in comparison those prescribed < 90 MME. Using a multivariable regression tree analysis, in addition to the presence of chronic pain, mental health, physical health, and somatic burden were key predictors of ≥ 90 MME opioid use.
CONCLUSION:
Higher daily opioid dose is associated with chronic pain. Among those with chronic pain, opioid dose ≥ 90 MME is associated with worse HRQOL.
PMID: 29848208
Similar articles  also see https://www.clinicalpainadvisor.com/chronic-pain/sickle-cell-disease-chronic-pain-opioid-dosage-health-related-quality-of-life/article/776851/
Prof Case Manag. 2018 Jul/Aug;23(4):213-219. doi: 10.1097/NCM.0000000000000260.
Barriers to Care for Persons With Sickle Cell Disease: The Case Manager's Opportunity to Improve Patient Outcomes.
Brennan-Cook J1, Bonnabeau E, Aponte R, Augustin C, Tanabe P.
Abstract
PURPOSE AND OBJECTIVES:
The purpose of this discussion is to review the barriers to care for patients with sickle cell disease (SCD). Chronic pain and the perception of addiction, implicit bias, frequent hospitalizations and emergency department visits, clinician and patient knowledge deficits, and SCD stigma all impede the ability to provide evidence-based care for patients with SCD. Case managers can coordinate and advocate for appropriate care that improves patient outcomes.
PRIMARY PRACTICE SETTING:
This discussion is relevant to case managers working with patients with SCD in the clinic, hospital, and emergency department.
FINDINGS/CONCLUSIONS:
Case managers can serve an important advocacy role and intervene to improve the coordination of services and efficient use of resources. This will lead to improved quality of life and optimal health care utilization for persons with SCD.
IMPLICATIONS FOR CASE MANAGEMENT PRACTICE:
As a constant member of the health care team, the case manager may be the only health care team member who has a broad knowledge of the patient's experience of acute and chronic pain, usual state of health, social behavioral health needs, and how these factors may affect both inpatient and outpatient health care use and health outcomes. This article explores the barriers to care and suggests specific interventions within the role of the case manager that can improve care delivered and ultimately contribute to improved patient outcomes. Specifically, these interventions can improve communication among members of the health care team. Case manager interventions can guide coordination, prevent hospital readmissions, reduce health care utilization, and contribute to overall improved patient quality of life and health outcomes.
PMCID: PMC5981859 [Available on 2019-07-01]
PMID: 29846351
Transfus Med. 2018 May 29. doi: 10.1111/tme.12543. [Epub ahead of print]
The erythrocyte alloimmunisation in patients with sickle cell anaemia: a systematic review.
da Cunha Gomes EG1, Machado LAF1, de Oliveira LC2, Neto JFN3.
Abstract
Transfusion therapy is a common practice in the treatment of anaemia and can cause erythrocyte alloimmunisation. To systematise data related to erythrocyte alloimmunisation in patients with sickle cell disease (SCD). A bibliographic search was carried out in September 2017 to search for studies in four electronic databases. (i) Referring to the original work, (ii) being cohort or case-control, (iii) having been developed with individuals with SCD and (iv) having evaluated the erythrocyte alloimmunisation. Two reviewers identified the articles for inclusion in the study, extracted the predetermined data and carried out the evaluation of the methodological quality of the work. 21 studies were selected; the studies included data on 20 636 individuals (children and adults), were mostly published in the last 10 years, were developed in the United States and had high methodological quality. The occurrence of erythrocyte alloimmunisation ranged from 4·4 to 76%, and there was a higher rate of alloimmunisation against antigens of the Rh system. The risk factors for alloimmunisation were age; gender (female); red blood cell (RBC) units received; presence of ≥1 autoantibodies, TNF-α, interleukin (IL1B), human leukocyte antigens (HLA)-DRB1 gene polymorphisms; first blood transfusion (BT) after 5 years of age, transfusion episodic, multiple or during inflammatory events, acute chest syndrome (ACS) and vase-occlusive crisis (VOC); increased percentage of CD41 T memory cells; and positive direct antiglobulin test. Transfusion policies should be developed to protect the patient and his or her health based on the main factors associated with its incidence.
PMID: 29845661
Exp Hematol. 2018 May 26. pii: S0301-472X(18)30264-9. doi: 10.1016/j.exphem.2018.05.004. [Epub ahead of print]
Hemoglobin disorders: lentiviral gene therapy in the starting blocks to enter clinical practice.
Sii-Felice K1, Giorgi M1, Leboulch P2, Payen E3.
Abstract
The β-hemoglobinopathies, transfusion-dependent β-thalassemia and sickle cell disease, are the most prevalent inherited disorders worldwide and affect millions of people. Many of these patients have a shortened life expectancy and suffer from severe morbidity despite supportive therapies, which impose an enormous financial burden to societies. The only available curative therapy is allogeneic hematopoietic stem cell transplantation, although most patients do not have an HLA-matched sibling donor, and those who do still risk life-threatening complications. Therefore, gene therapy by one-time ex vivo modification of hematopoietic stem cells followed by autologous engraftment is an attractive new therapeutic modality. The first proof-of-principle of conversion to transfusion independence by means of a lentiviral vector expressing a marked and anti-sickling βT87Q-globin gene variant was reported a decade ago in a patient with transfusion-dependent β-thalassemia. In follow-up multicenter Phase II trials with an essentially identical vector (termed LentiGlobin BB305) and protocol, 12 of the 13 patients with a non-β0/β0 genotype, representing more than half of all transfusion-dependent β-thalassemia cases worldwide, stopped red blood cell transfusions with total hemoglobin levels in blood approaching normal values. Correction of biological markers of dyserythropoiesis was achieved in evaluated patients. In nine patients with β0/β0 transfusion-dependent β-thalassemia or equivalent severity (βIVS1-110), median annualized transfusion volume decreased by 73% and red blood cell transfusions were stopped in three patients. Proof-of-principle of therapeutic efficacy in the first patient with sickle cell disease was also reported with LentiGlobin BB305. Encouraging results were presented in children with transfusion-dependent β-thalassemia in another trial with the GLOBE lentiviral vector and several other gene therapy trials are currently open for both transfusion-dependent β-thalassemia and sickle cell disease. Phase III trials are now under way and should help to determine benefit/risk/cost ratios to move gene therapy toward clinical practice.
PMID: 29807062
J Health Care Poor Underserved. 2018;29(2):814-829. doi: 10.1353/hpu.2018.0060.
Social and Behavioral Factors in Sickle Cell Disease: Employment Predicts Decreased Health Care Utilization.
Williams H, Silva RNS, Cline D, Freiermuth C, Tanabe P.
Abstract
to determine frequency of health care encounters among people with sickle cell disease (SCD) seeking treatment for a vaso-occlusive crisis (VOC). Health care encounters are categorized by visit type (day hospital, ED visit, hospitalization), prevalence of self-reported behavioral and social factors, and any associations between behavioral and social factors and health care encounters. Ninety-five people with SCD were enrolled in a prospective descriptive study in North Carolina. Patients were interviewed concerning behavioral-social factors, and a report of health care encounters was produced, generated by ICD codes associated with VOCs between October 2011 and March 2014. Among 95 patients, there were a total of 839 day hospital and 1,990 ED visits, and 1,101 hospital admissions. Prevalent behavioral and social factors were depression (29%), anxiety (34%), illicit drug use (6%); unstable home situation (17%); and unemployment (81%). Employment and stable home were significantly associated with decreased frequency of health care encounters.
PMID: 29805142
Pediatr Clin North Am. 2018 Jun;65(3):427-443. doi: 10.1016/j.pcl.2018.01.005.
Treatment Options for Sickle Cell Disease.
Meier ER1.
Abstract
Sickle cell disease (SCD) complications begin with the polymerization of sickle hemoglobin (HbS). Thus, SCD therapies are focused on preventing HbS production or reducing the circulating amount of HbS. Hydroxyurea treatment has become more widespread, whereas the number of evidence-based indications for erythrocyte transfusion is small. Hematopoietic stem cell transplant is a curative option for SCD but less than 25% of patients have a suitable donor. This article focuses on supportive and preventive care improvements and the benefits of hydroxyurea. Indications for erythrocyte transfusion, hematopoietic stem cell transplant, and gene therapy trials are also summarized.
PMID: 29803275
Pediatr Clin North Am. 2018 Jun;65(3):445-464. doi: 10.1016/j.pcl.2018.01.006.
A Scientific Renaissance: Novel Drugs in Sickle Cell Disease.
Abstract
We have entered an era of exploding interest in therapeutics for sickle cell disease. The expansion in our understanding of sickle cell disease pathophysiology has enhanced the range of potential therapeutic targets. From induction of fetal hemoglobin to antiadhesion molecules, we are potentially on the cusp of making life-altering modifications for individuals with sickle cell disease. This disease population cannot afford to let the current momentum wane. Studies exploring combinations of therapies affecting multiple steps in the pathophysiology and exploring novel and clinically relevant outcomes are incumbent.
PMID: 29803276
Pediatr Clin North Am. 2018 Jun;65(3):465-480. doi: 10.1016/j.pcl.2018.01.008.
Genetic Therapies for Sickle Cell Disease.
Abstract
Sickle cell disease is the most prevalent monogenic disorder worldwide and curative therapies are limited to hematopoietic stem cell transplant to the few with matched donors. Gene therapy has curative potential, whereby autologous hematopoietic stem cells are genetically modified and transplanted, which would not be limited by matched donors, resulting in 1-time, life-long correction devoid of immune side effects. Significant progress has been made to clinically translate gene therapy for sickle cell disease using lentivirus vectors carrying antisickling genes. This review focuses on the current state of the field, factors that determine clinical success, gene editing, and future prospects.
PMID: 29803277
Pediatr Clin North Am. 2018 Jun;65(3):481-493. doi: 10.1016/j.pcl.2018.01.007.
The Epidemiology and Management of Lung Diseases in Sickle Cell Disease: Lessons Learned from Acute and Chronic Lung Disease in Cystic Fibrosis.
Abstract
Although sickle cell disease and cystic fibrosis are two of the most common monogenic diseases presenting in childhood worldwide, cystic fibrosis and sickle cell disease enjoy vastly different funding and collaborative research efforts. Pulmonary complications in cystic fibrosis have well established guidelines and multidisciplinary involvement focusing on comorbidities, routine monitoring, infectious complications, nutrition, and treatment recommendations. These guidelines can provide a framework on which to build knowledge of lung disease in sickle cell disease.
PMID: 29803278
Sickle Cell Conferences and Events
2018 Sickle Cell in Focus October 22-23, 2018
National Institutes of Health 
Natcher Conference Center Bethesda, MD 20892
Click here for event details and to register!
To view the agenda click here.
46TH ANNUAL NATIONAL CONVENTION THEME ANNOUNCED
This year's theme for the conference is Celebrating the Diversity Within the Sickle Cell Community: Commitment, Innovation, and Practice
With over 600 researchers, physicians, nurses, social workers, individuals living with SCD & SCT in attendance, last year's year's convention was a major success and our largest to date. We are excited to unite again with you at the 46th Annual National Convention in Baltimore, MD on October 10-13, 2018! https://www.sicklecelldisease.org/2017/03/07/46th-annual-national-convention/
The 4th Annual Sickle Cell Disease Symposium for Carolinas Healthcare System – Atrium Health
The 4th Annual Sickle Cell Disease Symposium for Carolinas Healthcare System – Atrium Health will be held on Saturday, October 27, 2018 at the Speedway Club in Charlotte, NC. The theme this year is: "4th Annual SCD Symposium: Racing to Improve the Access to Care & Outcomes for SCD".
2018 (Re) imagining Health: Sickle Cell Anemia & Thalassaemia: An International Biomedical-Sociocultural Conference
November 16 – 17, 2018
Edmonton Clinic Health Academy, University of Alberta Edmonton, Alberta, Canada
This event will join our community of physicians, surgeons, researchers, medical practitioners and patients with a deep understanding and commitment to finding the cure for Sickle Cell Anemia.
We aim to bring together multiple voices to support and build inclusive and equitable teaching and learning environments, while increasing knowledge of the continued effects of the Sickle Cell Anemia trait. The Sickle Cell Foundation of Alberta is proud to announce the following expert speakers
Dr. Lakiea Bailey, of Georgia, USA
Dr. Carl James, of Toronto, ON
Dr. Emily Meier of Indiana, USA
Dr. Greg Guilcher of Calgary, AB
Dr. Santosh Saraf of Illinois, USA
Dr. Courtney Fitzhugh of Maryland, USA
REGISTRATION – Conference registration is now open. A variety of registration categories are available for the conference. Please see the fee details below or register online here. https://ourscfa.org/conference/
More information can be found on the conference website
www.ourscfa.org/conference  Contact us at SCFA@buksa.com