To join or leave the listserv visit https://scinfo.org/newsletter/
A Year In, 1st Patient To Get Gene Editing For Sickle Cell Disease Is Thriving
Since receiving a landmark treatment with the gene-editing tool CRISPR, a sickle cell patient has the strength to care for herself and her children — while navigating the pandemic.

Read in NPR: https://apple.news/A732Gi2ZuTiabNX7QKC22EA


New Data Resource link for the Registry data collected by the Sickle Cell Disease Implementation Consortium   https://scdicdashboard.azurewebsites.net/?mode=viewer&dashboardId=DashboardMenu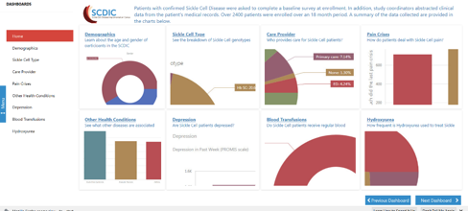 IASCNAPA Scholarship Applications Now Available
The International Association of Sickle Cell Nurses and Professional Associates' (IASCNAPA) Steven Christy and Christine H. Johnson Scholarship funds were established to provide stipends to people with sickle cell disease (SCD) attending post-secondary education. Steven Christy battled SCD and was a staunch SCD advocate during his life, and Dr. Christine H. Johnson was an SCD provider and advocate her entire medical career. Scholarships were established in their honor by family and friends. To apply for an IASCNAPA scholarship, go to www.iascnapa.org


Terumo BCT Releases "Smart Blood Toolkit"
Terumo BCT released a "Smart Blood Toolkit" to assist sickle cell disease (SCD) providers in the best practices for blood management and achieving desired HbS targets during automated red blood cell exchanges. This timely information was released to address the ongoing concerns regarding the national blood supply and potential risk for individuals with SCD who receive chronic transfusions.


CDC's Sickle Cell Data Collection Program Announcements
The Centers for Disease Control and Prevention's (CDC's) Sickle Cell Data Collection (SCDC) program determines the number of people living with sickle cell disease (SCD) and monitors changes related to their health over time.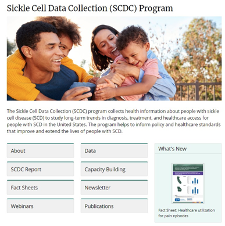 Website Update: CDC redesigned its SCDC program website with a cleaner, more streamlined layout and improved navigation.
Webinar: Stay tuned for a webinar about the importance of incorporating a palliative approach to SCD care on Wednesday, July 1, 2020. Join the email list to receive announcements about upcoming webinars.

World Sickle Cell Day: CDC is sharing personal stories about SCD, blood donation resources, and videos about the many faces of SCD on June 19. Stay updated by following us on Twitter at @CDC_NCBDDD.
Nigerian Sickle Cell Patients Thriving During the Pandemic
By Katie Odey and Chika Obasi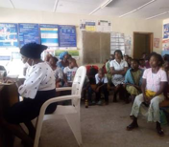 Oyiji Odey Sickle Cell Program, Nigeria
We have had the Covid-19 Pandemic for a little over 5 months. Although it affects everybody, the main focus has been taking better care of the most vulnerable among us. Sickle Cell sufferers would probably be on the top of the list. According to the Center for Disease Control, (CDC), "People who are immunocompromised" are susceptible to the disease and need to be closely monitored. Coronavirus disease 2019 (COVID-19) is a highly infectious disease that affects your respiratory system. It was first discovered in December 2019 in Wuhan, China, but has since spread across the world resulting in a global pandemic. As of May 2020, there have been over 4 million cases and over 3 million deaths.
In Nigeria, the incidence of COVID-19 is increasing on a daily basis due to the increasing availability of test kits across the country. With the total number of confirmed cases put at 5,621, 176 deaths, and 1,472 recoveries, we are taking extra precautions to keep our patients safe and healthy. Every sphere, including the economic and educational sector in Nigeria, have been adversely and negatively affected due to poor its lack of preparedness and poor disaster management. The presence of coronavirus has worsened the condition of things and further impoverished the citizens leading to increased susceptibility to the disease as a result of scarcity of adequate nutrition owing to the lockdown.
Caring for patients with sickle cell pose a different challenge considering the increased cases of the coronavirus in African. In his article, on mitigating the effects of the COVID 19 on Sickle Cell Disease in Africa, Dexter writes: "The current focus on the COVID-19 pandemic in Africa and resource mobilization provides unique opportunities for optimizing health services for people with sickle cell disease in Africa and improving surveillance." (Dexter, 2020) For patients like ours, it is imperative to take proper steps to ensure their overall well-being. For the past twenty years, we have focused largely on preventative care and education. Patients get a monthly supply of multivitamins, folic acid, and over-the-counter pain medicines. Many have thrived.
It is no doubt that Nigeria is a "resource-poor" nation owing to poor governance. At our center, however, we have been able to adopt the use of face mask by both clients and health care provider, handwashing with soap before entering the clinic, use of hand gloves, division of clients into groups so as to minimize unnecessary contact and maintain social distance (152 clients were seen over a period of 4 days). So far so good our clients are doing very well with none presenting with complaints suggestive of COVID -19.
In the coming months, Dr. Obasi will begin to provide acute care for some of our patients. We will be introducing the use of Hydroxyurea for ten of our patients and collecting data to see how well they do. That data will be shared among some researchers to help in guiding our transition to acute care. Our immediate need is to start work on our clinic and research center, and the goal is to provide more qualitative to properly manage the disease.
Hydroxyurea is a game-changer in the management of sickle cell disease because of its curative properties and at our center, we intend to adopt it as a part of the standard care of our clients. In Nigeria however, the use of hydroxyurea is not common so we intend to carry a clinical trial on 10 of our clients to ensure that it is safe and effective before making it an integral component of our treatment protocol. Clearly, the use of hydroxyurea has been associated with a decreased rate of hospitalization due to both acute and chronic sickle cell disease. and an overall improvement of the quality of life of our clients with SCD during and after the pandemic. No doubt our routine medications have been helpful, they are not curative. Our center hopes to be among the first few centers in Nigeria to successfully provide the relief that our patients need through the use of hydroxyurea. This will bring hope and smiles to the faces of our clients.
Mitigating the effect of the COVID-19 pandemic on sickle cell disease services in African countries. Daniel Dexter, David Simons, https://www.ncbi.nlm.nih.gov/pmc/articles/PMC7180020/
Help ASH American Society of Hematology fight sickle cell disease
As a way to assess the state of SCD since the 2016 report card was released, identify the greatest opportunities for improvement, and highlight actions needed to make a significant difference in SCD access to care, education, research, and global issues. This year, during Sickle Cell Awareness Month in September, we plan on releasing an updated report card, which will showcase how much progress has been made over the past two years, as well as how much work still needs to be done.
We have developed a survey that will help us determine where SCD currently stands. As an individual living with SCD or individual working in an area related to the disease, we ask that youtake this survey so that we can determine how well we are doing in four main areas: access to care, training and professional education, research and clinical trials, and global issues. Detailed instructions are included in the survey portal. You are asked to respond anonymously as individuals, not as representatives of your institution or organization.
We kindly request that you complete this survey by Monday, July 6. Please feel free to share the survey with others in the SCD community.
Many thanks,
Stephanie
Stephanie Kaplan
Deputy Director, Government Relations and Public Health
American Society of Hematology
2021 L Street, NW, Suite 900
Washington, DC 20036
(202) 776-0544, x5263
Articles in the medical literature
Meetings for the Sickle Cell Community
2020 Indiana Sickle Cell Conference "Sickle Cell Trait: Taking a Closer Look" The new date September 25th. This one-day Sickle Cell Disease conference will feature educational sessions for healthcare providers, patients/families, and social services providers. The morning sessions will be devoted to healthcare providers and the afternoon sessions will be tailored for patients, family members and social workers. Medically oriented topics will include improving awareness about Sickle Cell Trait and some of the health complications that research indicates can be associated with it. Health care providers and others will be presented with information that will broaden current thinking about the prevalence of trait and its impacts on the human body. Patient oriented topics will include sessions on trait education, including the variant Sickle Cell genotypes and inheritance patterns. Both sessions are open to the public. All attendees will be provided with information about available resources and current trends in the field.
registration link… https://www.eventbrite.com/e/2020-indiana-sickle-cell-conference-tickets-95286583737
First IASCNAPA Conference
The International Association of Sickle Cell Nurses and Professional Associates (IASCNAPA) Sickle Cell Conference: Treating the Whole Person scheduled for 4/17/2020 in Memphis is cancelled due to COVID-19 concerns. The decision to cancel the conference took into account many important factors, including the risk of unnecessary exposure to our patient population.
The event is rescheduled for April 9, 2021 at the Memphis Hilton.
Your understanding and support are greatly appreciated! For information go to www.iascnapa.org

Foundation for Sickle Cell Disease Research Symposium
Due to the unprecedented Novel Coronavirus COVID-19, our annual in-person Symposium is rescheduled to September 23 – 25, 2020.
The Foundation for Sickle Cell Disease Research (FSCDR) is committed to supporting innovative research in sickle cell disease (SCD) to help maximize quality of life and improve survival for the generations of people affected by SCD. The Symposium focuses on interactive education, sharing of best practices, and exploring novel Learn more and register today. https://fscdr.org/the-symposium/