To join or leave the listserv visit https://scinfo.org/newsletter/

SCDC Update
October 22, 2020
New Community Resources Released on Gene Therapy for SCD
Make sure to check out the recently released resources for the community on gene therapy for sickle cell disease (SCD), including a short video and infographic. The resources were jointly developed by the American Society of Gene & Cell Therapy (ASGCT), American Society of Hematology (ASH), the ASH Research Collaborative, and the National Heart, Lung, and Blood Institute (NHLBI) Cure Sickle Cell Initiative. The resources address the cause and burden of SCD as well as explain how gene therapy approaches can target that cause; viral vectors to address concerns; and some risks and benefits.
ASH and SCDAA Hold Virtual Congressional Briefing on Sickle Cell Disease
On October 8, ASH and the Sickle Cell Disease Association of America (SCDAA), in conjunction with Senators Tim Scott (R-SC) and Cory Booker (D-NJ) and Representatives Danny K. Davis (D-IL) and Michael C. Burgess, M.D., (R-TX), hosted a virtual congressional briefing on sickle cell disease (SCD). The briefing presented an overview about the current state of SCD during the pandemic and highlighted the recent report, Addressing Sickle Cell Disease: A Strategic Plan and Blueprint for Action, released by the National Academies of Sciences, Engineering, and Medicine (NASEM), along with policy strategies as recommended by the report. Presenters included Dr. Biree Andemariam, (Chief Medical Officer, SCDAA); Kyle Smith, MS (Crescent Foundation); Dr. Kim Smith-Whitley (Children's Hospital of Philadelphia); and Dr. Chancellor Donald (Chair, ASH Committee on Practice). Click here to view a recording of this informational briefing.
HHS Office of the Assistant Secretary for Health Presents Award to Dr. Kwaku Ohene-Frempong
On October 14, the Assistant Secretary for Health, ADM Brett P. Giroir, M.D., presented the Assistant Secretary of Health (ASH) Exceptional Service Medal to Dr. Kwaku Ohene-Frempong recognizing him for his outstanding contributions on behalf of the millions of people worldwide with sickle cell disease (SCD). The civilian medal is awarded for exceptional achievement to the cause of public health and medicine and is the highest civilian award from the Public Health Service, which includes all health divisions of the Department of Health and Human Services (HHS). Dr. Ohene-Frempong is the first civilian recipient of the ASH Exceptional Service Medal. Dr. Ohene-Frempong is Professor Emeritus of Pediatrics at the Perelman School of Medicine at the University of Pennsylvania and is an inspirational force for the Global Coalition on Sickle Cell Disease. His experience as a clinician in Ghana serves a model for how to incorporate management of SCD in primary healthcare, and his mentorship and dedication to the disease have impacted thousands of children in Ghana and around the world. Read more.
Connecting Warriors to Curated Sickle Cell Content
The Sickle Cell Connect Series is now available ON DEMAND! Visit www.sicklecellconnect.com to view a three-part video series:
Episode 1: What is sickle cell disease (SCD)?
Episode 2: Living with SCD
Episode 3: The future of SCD
The programs feature experts, SCD organizations, warriors, and their families discussing their work to spread awareness of SCD, sharing stories and addressing treatment and transplant options for SCD. This series has been created by Be The Match to build awareness of SCD, empower patients, and grow the Be The Match Registry. Also, make sure to visit the Sickle Cell Connect Resources webpage to learn about other valuable SCD tools and programs, including the Black Blood Heals Podcast.
Congratulations to the Sickle Cell Disease Association of America (SCDAA) on a successful 48th Annual National Convention 2020! Despite needing to meet virtually, the Convention provided an invaluable opportunity for the community to network and engage in educational programs. The program also provided the opportunity for attendees to celebrate virtually during the Annual Unity Soiree Gala and Awards Program. Kudos to the following leaders from the SCD community and active members in the SCD Coalition on receiving the following SCDAA's 2020 prestigious awards at the program:
Community Health Worker P.O.W.E.R. Award: Andre Harris, Foundation for Sickle Cell Disease Research
Champion Award: Cassandra Trimnell, Sickle Cell
Chairman's Award: Dr. Biree Andemariam, Chief Medical Officer, SCDAA and University of Connecticut Health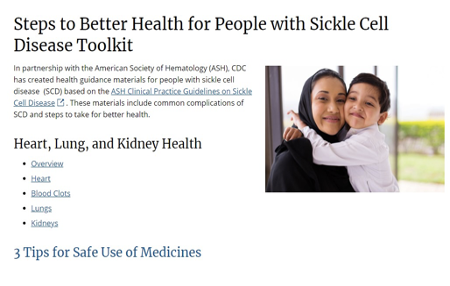 CDC's Sickle Cell Disease Program Activities
Coronavirus disease among persons with sickle cell disease, United States, March 20-May 21, 2020.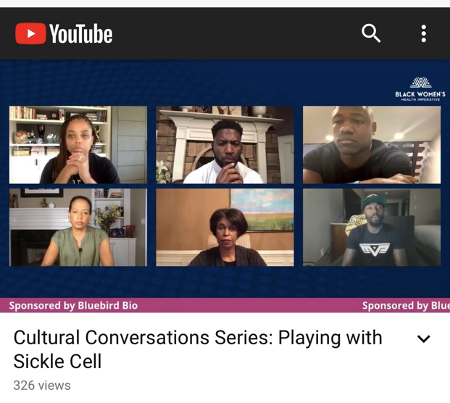 Watch A Cultural Conversation: Playing with Sickle Cell
In late September, the Black Women's Health Imperative (BWHI) hosted A Cultural Conversation: Playing with Sickle Cell. The recording is available here. This was the first program in the BWHI's new series of virtual conversations to address social and environmental justice issues in the context of health and diseases impacting Black Americans. The program featured:
Jemele Hill, Moderator and Award-Winning Sports Journalist
Ryan Clark, Former NFL Pro Bowl Safety
Santonio Holmes, Former NFL Pro Bowl Wide Receiver and Super Bowl Champion
Super Bowl Champion, and Sickle Cell Advocate
Ty Montgomery, Running Back for the New Orleans Saints
Dr. Kim Smith-Whitley, Children's Hospital of Philadelphia
Linda Goler Blount, MPH, President & CEO, BWHI
HHS Office of Minority Health Announces $1 Million Award to Develop National Sickle Cell Disease Data Collection System
On October 1, the Office of Minority Health (OMH) at the U.S. Department of Health and Human Services (HHS) announced an approximately $1,000,000 grant to the American Society of Hematology (ASH) to develop and implement a national sickle cell disease (SCD) clinical data collection platform. The Sickle Cell Disease Clinical Data Collection Platform initiative will be led by ASH, the ASH Research Collaborative (ASH RC), and the Learning Networks Program at the James M. Anderson Center for Health Systems Excellence at Cincinnati Children's Hospital. This initiative will leverage and enhance the ASH RC SCD Data Hub Program to serve as a nationwide SCD data collection platform and create a new SCD Learning Community. The platform will leverage longitudinal patient data to help track practice patterns, document and share best practices for improving care, facilitate research, and ultimately work to improve outcomes at a national level. Read more.
SCD and COVID-19 Resources
The following links are frequently updated with timely information for the community and providers.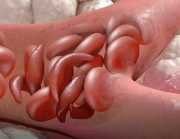 Using Genome Editing for Sickle Cell Disease
See how researchers are testing ways to use genome editing to treat sickle cell disease.Watch the video to learn more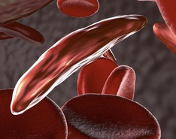 Sickle Cell Disease Information
The NHLBI provides many resources to help patients, their families, and health professionals learn more about important sickle cell disease topics.Browse the NHLBI's sickle cell disease information
the National Black Nurses Association's quarterly publication, in recognition of National Sickle Cell Disease Awareness month. The publication is available via this link (https://www.nbna.org//Files/NBNA%20Newsletters/cs_NBNA_SUMMER_2020%20proof06.pdf)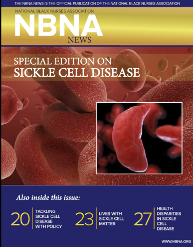 Patient and Provider authors needed for contributing a story on Experiencing Racism in Healthcare for Narrative Inquiry in Bioethics.
Experiencing racism in healthcare Symposium Editor Gloria Wilder, MD, MPH
Narrative Inquiry in Bioethics will publish a collection of personal stories from patients and healthcare providers who have personally experienced or witnessed racism in a healthcare setting. In the U.S., people of color experience inequalities and biases that contribute to poorer health outcomes. The health of African Americans, in particular, lags behind most other racial minority groups. Compared with whites, black men and women face higher rates of chronic disease, mental health challenges, and have a lower life expectancy. This is true, regardless of socio-economic status, age, gender, or insurance status. These differences may be attributed to the psychological stress that African Americans experience from living with chronic discrimination and racially biased systems throughout the lifespan. Some racism in healthcare is overt and reveals conscious racial discrimination. Other times, it is supported by institutional policies or the unconscious bias of individuals. All racism in healthcare leads to mistrust, damaging the patient-provider relationship and further worsening health outcomes.
We seek stories from patients, family members, and healthcare providers with first-hand experience with racism in a healthcare setting. We are interested in stories that involve racist behaviors of individuals, demonstrate both conscious and unconscious bias, or reveal racially-biased institutional systems. We want true, personal stories in a form that is interesting and easy to read. Please share this invitation and guide sheet with appropriate individuals.
In writing your story, please consider these questions:
What racially-biased behavior, event, or policy did you experience?
Tell us what happened. You may describe more than one experience.
How did the experience affect you? How did you feel?
How did you respond to the experience?
Did the experience change you in any way, and if so, how?
How would you advise someone faced with a similar situation?
You do not need to address each of these questions—write on the issues that you think are most important to share with others. If you are not a writer, tell your story in your own words and our editorial staff will help you.
If you are interested in submitting a story, we ask you first to submit a 300-word proposal—a short description of the story you want to tell. If writing makes you uncomfortable, you may invite a co-author. We may also be able to help you type a story that you write by hand or record.
Inquiries or proposals should be sent to the editorial office via email: narrativebioethics@gmail.com. We will give preference to story proposals received by December 2, 2020. We plan to publish 12 stories (4 – 10 double-spaced pages or 800 – 2000 words) on this topic. Some additional stories may be published as online-only supplemental material. We also publish 3 – 4 commentary articles that discuss the stories and explore constructive changes to the healthcare system that are published in the journal. To see a finished symposium find a free access issue here: http://nibjournal.org/issues/.
For more information about the journal Narrative Inquiry in Bioethics and to read the guidelines for authors, and privacy policies, visit our webpage at https://nibjournal.org/submit/guidelines/#symposia.
New California Sickle Cell Initiative at https://sicklecellcare-ca.com/
Mission to provide access to specialty care and improve quality of care for adults with sickle cell disease; support workforce expansion for coordinated health services; conduct surveillance to monitor disease incidence, prevalence, and other metrics; create a public awareness campaign; and provide fiscal oversight of the resources.
Novartis STEP Program Now Accepting Proposals that Support Caregiving in Blood Disorders
Caregivers face many emotional and physical challenges while navigating changing care needs for their loved ones. Novartis' STEP (Solutions to Empower Patients) ProgramTM is now accepting submissions from US patient advocacy organizations that address an unmet need in caregiving for cancer and certain blood disorders. The STEP Program will provide up to six organizations with up to $50,000 each for their innovative programs. You can find more information and submission instructions here.
The STEP Program was created in 2017 to support nonprofit organizations that are helping to address some of the most significant gaps in health care.
Articles in the medical literature
1.
Patient-reported Outcome Measures (PROMs) in Pediatric Non-Malignant Hematology: A Systematic Review J Pediatr Hematol Oncol. 2020 Oct 30. doi: 10.1097/MPH.0000000000001984. Authors Julia Y Kinahan 1 2 , Johann M I Graham 1 3 4 , Yamilée V Hébert 1 2 , Margaret Sampson 1 , Katie O'Hearn 1 , Robert J Klaassen 1 2 5 Abstract
Patient-reported outcome measures (PROMs) are questionnaires completed by patients or caregivers without influence by health care professionals. As such, PROMs show subjective health experiences, enhance the clinical information available to providers, and inform clinical action. The objective of this systematic review is to identify and list which validated PROMs have been used to monitor health-related quality of life in pediatric patients with nonmalignant hematology (hemophilia, immune thrombocytopenia, sickle cell disease, and thalassemia). Databases (MEDLINE, Embase, HaPI, CINAHL, and PsycTESTS) were searched to identify publications that validated or used PROMs as an outcome measure in the 4 disease groups. Overall, 209 articles met the inclusion criteria, identifying 113 PROMs. Of the 113 identified PROMs, 95 are generic and can be used in multiple disease groups. The Pediatric Quality of Life Generic Core Scales was the most frequently used generic PROM (68 studies). The 18 remaining PROMs were disease specific. The results of this review, together with the COSMIN tool for selecting outcome measures, will allow clinicians to evaluate the PROMs that are best suited to their patient population. In addition, the focus groups are currently being conducted with patients, parents, and clinicians to determine the optimal use of PROMs in the clinical environment. Full-text links    
2.
Emergence of gram-negative organisms as the cause of infections in patients with sickle cell disease Pediatr Blood Cancer. 2020 Oct 31;e28784. doi: 10.1002/pbc.28784. Online ahead of print.
Authors
Sara Khalife 1 , Rima Hanna-Wakim 1 , Rasha Ahmad 1 , Rachid Haidar 2 , Peter G Makhoul 1 , Nabil Khoury 3 , Ghassan Dbaibo 1 , Miguel R Abboud 1
Abstract
Background: Patients with sickle cell disease are at higher risk of infections with encapsulated bacteria due to immature immune responses and functional asplenia. We aimed to study our patient population for the emergence of gram-negative organisms other than Salmonella as the cause of osteomyelitis and document a vast decrease in Streptococcus pneumoniae bacteremia rates.
Methods:
We conducted a retrospective chart review of 158 patients with sickle cell disease registered at our hospital. Over a period of 13 years, every patient presenting to the emergency department (ED) with fever had their medical record reviewed for blood cultures, wound cultures, and magnetic resonance imaging results for osteomyelitis.
Results:
The number of patients presenting to the ED with fever was 105, with 581 febrile episodes and 893 blood cultures. Among those, no culture grew Streptococcus pneumoniae, 14 grew coagulase-negative staphylococci (1.5%), one grew Salmonella enterica Paratyphi B, and three grew Salmonella enterica group C (in the same patient). The total number of osteomyelitis episodes in patients with sickle cell disease presenting with fever and documented by imaging was nine (1.5%). In patients with osteomyelitis, organisms were isolated in four patients (44%), including Enterobacter cloacae, Bacteroides, Pseudomonas aeruginosa, and Salmonella enterica group C.
Conclusions:
Immunization against Streptococcus pneumoniae and the use of prophylactic penicillin has virtually eliminated pneumococcal bacteremia among our patients. We observed the emergence of gram-negative organisms other than Salmonella as the cause of osteomyelitis in patients with sickle cell disease. 15 references Full-text links    
3.
Screening for sickle cell disease in newborns: a systematic review Syst Rev. 2020 Oct 30;9(1):250. doi: 10.1186/s13643-020-01504-5. Authors
Britta Runkel 1 , Birgit Klüppelholz 1 , Anne Rummer 1 , Wiebke Sieben 1 , Ulrike Lampert 1 , Claudia Bollig 2 3 , Martina Markes 1 , Ulrike Paschen 1 , Konstanze Angelescu 4
Abstract
Background: Sickle cell disease (SCD) is an inherited autosomal recessive disorder caused by the replacement of normal haemoglobin (HbA) by mutant Hb (sickle Hb, HbS). The sickle-shaped red blood cells lead to haemolysis and vaso-occlusion. Especially in the first years of life, patients with SCD are at high risk of life-threatening complications. SCD prevalence shows large regional variations; the disease predominantly occurs in sub-Saharan Africa. We aimed to systematically assess the evidence on the benefit of newborn screening for SCD followed by an earlier treatment start.
Methods:
We systematically searched bibliographic databases (MEDLINE, EMBASE, Cochrane Databases, and the Health Technology Assessment Database), trial registries, and other sources to identify systematic reviews and randomised controlled trials (RCTs) or non-randomised trials on newborn screening for SCD. The last search was in 07/2020. Two reviewers independently reviewed abstracts and full-text articles and assessed the risk of bias of the studies included. Data were extracted by one person and checked by another. As meta-analyses were not possible, a qualitative summary of results was performed.
Results:
We identified 1 eligible study with direct evidence: a Jamaican retrospective study evaluating newborn screening for SCD followed by preventive measures (prevention of infections and education of parents). The study included 500 patients with SCD (intervention group, 395; historical control group, 105). Although the results showed a high risk of bias, the difference between the intervention and the control group was very large: mortality in children decreased by a factor of about 10 in the first 5 years of life (0.02% in the intervention group vs. 0.19% in the control group, odds ratio 0.09; 95% confidence interval [0.04; 0.22], p < 0.001). Conclusion: The results are based on a single retrospective study including historical controls. However, the decrease of mortality by a factor of 10 is unlikely to be explained by bias alone. Therefore, in terms of mortality, data from this single retrospective study included in our systematic review suggest a benefit of newborn screening for SCD (followed by preventive measures) versus no newborn screening for SCD (weak certainty of conclusions).
Keywords: Anaemia—sickle cell; Newborn screening; SCD screening; Systematic review.      
4.
Antimicrobial resistance is a risk factor for mortality in adults with sickle cell disease Haematologica. 2020 Oct 29;Online ahead of print:0. doi: 10.3324/haematol.2020.267872. Authors Andrew Srisuwananukorn 1 , Jin Han 2 , Rasha Raslan 3 , Michel Gowhari 1 , Faiz Hussain 1 , Franklin Njoku 1 , Robert E Molokie 4 , Victor R Gordeuk 1 , Santosh L Saraf 5 Abstract Not available. Full-text links    
5.
Sickle cell maculopathy: prevalence, associations and impact on visual acuity Ophthalmologica. 2020 Oct 29. doi: 10.1159/000512636. Online ahead of print.
Authors
Haroen Sahak, Mohammed Saqalain, Pooi Lott, Martin Mckibbin Abstract
Aims:
To investigate the prevalence of sickle cell maculopathy (SCM), associations with age, sex, genotype and proliferative sickle cell retinopathy (PSR) stage and the impact on visual acuity Methods: Age, sex and visual acuity were recorded and spectral domain OCT and ultra-widefield images of the macula and retina were reviewed for a consecutive series of 74 adults with sickle cell disease Results: The median age was 37 years (range 19-73 years) and 36 cases (48.6%) were male. SCM was present in at least one eye of 40 cases (54.1%) or in 67 of all eyes (42.3%). SCM prevalence was 54.8%, 62.5% and 25% for HbSS, HbSC and HbS/BThal or other genotypes respectively. SCM was observed in 41 (39.4%) of the eyes with PSR stages 0,1,2 and 21 (51.2%) of the eyes with PSR stages 3,4,5. Mild visual impairment or worse was present in 3 eyes (4.8%) with SCM but this was secondary to other pathology. Conclusion: SCM is a frequent finding in eyes of adults with sickle cell disease. The prevalence is similar for both HbSS and HbSC genotypes and is not related to the PSR stage. High-contrast distance visual acuity is typically preserved.    
6.
The association between hydroxyurea adherence and opioid utilization among Texas Medicaid enrollees with sickle cell disease J Manag Care Spec Pharm. 2020 Nov;26(11):1412-1422. doi: 10.18553/jmcp.2020.26.11.1412.
Authors
Hyeun Ah Kang 1 , Jamie C Barner 2
Abstract
BACKGROUND: Individuals with sickle cell disease (SCD) suffer from recurrent catastrophic pain crises that are often managed by opioid analgesics. Being adherent to hydroxyurea has been associated with decreased health care resource use for pain; however, evidence of its association with opioid use is limited. OBJECTIVE:
To determine if adherence to hydroxyurea is associated with opioid use among patients with SCD.
METHODS:
This retrospective study used Texas Medicaid data from September 1, 2011, to August 31, 2016 (study period). The index date was the date of hydroxyurea initiation. Patients who were aged 2-63 years at the index date, had ≥ 1 inpatient or ≥ 2 outpatient SCD diagnoses during the study period, had ≥ 1 hydroxyurea prescription during the identification period (September 1, 2011-August 31, 2015), had no diagnosis of other indications for hydroxyurea during the study period, and were continuously enrolled for at least 12 months after the index date were included. Hydroxyurea adherence was measured using medication possession ratio (MPR). The study outcomes (measured 1-year post-index) were (a) opioid use; (b) number of opioid prescriptions; (c) strong opioid use (morphine, hydromorphone, fentanyl, and methadone); (d) number of strong opioid prescriptions; (e) high-dose opioid use (≥ 50 mg morphine milligram equivalent [MME]); and (f) days supply for opioid prescriptions. Covariates included demographic (age and gender) and clinical (vaso-occlusive crisis [VOC], avascular necrosis, iron overload, acute chest syndrome, and blood transfusion) characteristics. Descriptive, bivariate (chi-square and Wilcoxon-Mann-Whitney tests), multiple logistic regression, and negative binomial regression analyses were performed.
RESULTS:
1,146 patients (18.3 [12.3] years) met the inclusion criteria. Of these, 19.6% were adherent to hydroxyurea (defined as MPR ≥ 80%) and mean (SD) MPR was 48.3% (29.7%). In the 1 year following hydroxyurea initiation, 923 (80.5%) patients had ≥ 1 opioid prescription with 7.6 (9.4) opioid prescriptions per patient, while 259 (22.6%) patients had ≥ 1 strong opioid prescription with 1.5 (4.4) strong opioid prescriptions per patient. Average (SD) opioid dose was 41.7 (74.3) mg MME, and 27.1% had high daily MME doses (≥ 50 mg MME). Average (SD) opioid days supply was 83.1 (112.2) days. After adjusting for covariates, compared with being nonadherent, being adherent to hydroxyurea was associated with a 50.5% decreased risk of having strong opioids (OR = 0.495, 95% CI = 0.278-0.879, P = 0.0165). Additionally, SCD-related complications (VOC, avascular necrosis, and iron overload) and older age were significant factors associated with opioid use and higher MME. Post hoc analyses showed that being adherent to hydroxyurea was significantly associated with lower probabilities of experiencing SCD-related complications.
CONCLUSIONS:
Results showed that patients with SCD are moderately adherent to hydroxyurea. Being adherent to hydroxyurea was found to be associated with a lower risk of receiving a prescription for strong opioids. Findings suggest that close monitoring and interventions to improve adherence may help mitigate strong opioid use among these patients.
DISCLOSURES: This research did not receive any specific funding. Barner and Kang report grants from Novartis Pharmaceuticals, unrelated to this work. A part of this study was presented as a poster at the American Pharmacists Association (APhA) 2019 Annual Meeting and Exposition (March 22-25, 2019, Seattle, WA) and received the 2019 APhA-APRS Presentation Award in the APhA-APRS Contributed Research Paper, Graduate Student/Fellow/Postdoctoral Scholar category. Full-text links    
7.
Integrating Datasets on Public Health and Clinical Aspects of Sickle Cell Disease for Effective Community-Based Research and Practice Diseases. 2020 Oct 26;8(4):E39. doi: 10.3390/diseases8040039. Authors
Raphael D Isokpehi 1 , Chomel P Johnson 2 3 , Ashley N Tucker 1 , Aakirti Guatam 1 , Taylor J Brooks 1 , Matilda O Johnson 2 3 , Thometta Cozart 2 3 4 , Deanna J Wathington 2 4
Abstract
Sickle cell disease (SCD) is a genetic disease that has multiple aspects including public health and clinical aspects. The goals of the research study were to (1) understand the public health aspects of sickle cell disease, and (2) understand the overlap between public health aspects and clinical aspects that can inform research and practice beneficial to stakeholders in sickle cell disease management. The approach involved the construction of datasets from textual data sources produced by experts on sickle cell disease including from landmark publications published in 2020 on sickle cell disease in the United States. The interactive analytics of the integrated datasets that we produced identified that community-based approaches are common to both public health and clinical aspects of sickle cell disease. An interactive visualization that we produced can aid the understanding of the alignment of governmental organizations to recommendations for addressing sickle cell disease in the United States. From a global perspective, the interactive analytics of the integrated datasets can support the knowledge transfer stage of the SICKLE recommendations (Skills transfer, Increasing self-efficacy, Coordination, Knowledge transfer, Linking to adult services, and Evaluating readiness) for effective pediatric to adult transition care for patients with sickle cell disease. Considering the increased digital transformations resulting from the COVID-19 pandemic, the constructed datasets from expert recommendations can be integrated within remote digital platforms that expand access to care for individuals living with sickle cell disease. Finally, the interactive analytics of integrated expert recommendations on sickle cell disease management can support individual and team expertise for effective community-based research and practice.
Keywords: clinical manifestations; community-based health; data analytics; evidence-based practice; health promotion; interactive analytics; public health; sickle cell disease; visual analytics. Full-text links    
8.
Ambulatory microdose induction of buprenorphine-naloxone in two adolescent patients with sickle cell disease Pediatr Blood Cancer. 2020 Oct 27;e28766. doi: 10.1002/pbc.28766. Online ahead of print. Authors Bradley M Buchheit 1 2 , Timothy Joslin 1 , Helen N Turner 3 , Trisha E Wong 4 Abstract Sickle cell disease (SCD) is a hematologic disorder defined by presence of sickle-shaped red blood cells that can occlude blood vessels and cause tissue ischemia and pain. Treating SCD pain adequately and safely is difficult given today's opioid climate. Buprenorphine-naloxone has been described as an alternative option to treat chronic pain in the adult literature; however, it historically required discontinuation of full-agonist opioids before initiation, resulting in opioid withdrawal. Herein we present two adolescents with SCD who successfully weaned off large doses of full-agonist opioids by using microdose induction of buprenorphine-naloxone in clinic, without experiencing significant opioid withdrawal. Ambulatory microdose induction may remove hurdles that otherwise would discourage patients from trying this regimen while still controlling pain safely. Keywords: buprenorphine; opioid dependence; pain management; sickle cell disease. © 2020 Wiley Periodicals LLC. 13 references Full-text links    
9.
Potent and orally active purine-based fetal hemoglobin inducers for treating β-thalassemia and sickle cell disease Eur J Med Chem. 2020 Oct 16;112938. doi: 10.1016/j.ejmech.2020.112938. Online ahead of print.
Authors Zheng-Sheng Lai 1 , Teng-Kuang Yeh 2 , Yu-Chi Chou 3 , Tsu Hsu 2 , Cheng-Tai Lu 2 , Fang-Chun Kung 2 , Ming-Yen Hsieh 4 , Chun-Hung Lin 4 , Chiung-Tong Chen 2 , Che-Kun James Shen 5 , Weir-Torn Jiaang 6
Abstract
Reactivation of fetal hemoglobin (HbF) expression by therapeutic agents has been suggested as an alternative treatment to modulate anemia and the related symptoms of severe β-thalassemia and sickle cell disease (SCD). Hydroxyurea (HU) is the first US FDA-approved HbF inducer for treating SCD. However, approximately 25% of the patients with SCD do not respond to HU. A previous study identified TN1 (1) as a small-molecule HbF inducer. However, this study found that the poor potency and oral bioavailability of compound 1 limits the development of this inducer for clinical use. To develop drug-like compounds, further structure-activity relationship studies on the purine-based structure of 1 were conducted. Herein, we report our discovery of a more potent inducer, compound 13a, that can efficiently induce γ-globin gene expression at non-cytotoxic concentrations. The molecular mechanism of 13a, for the regulation HbF expression, was also investigated. In addition, we demonstrated that oral administration of 13a can ameliorate anemia and the related symptoms in SCD mice. The results of this study suggest that 13a can be further developed as a novel agent for treating hemoglobinopathies, such as β-thalassemia and SCD. Full-text links    
10.
The haemoglobinopathy survey: The reality of transfusion practice in sickle cell disease and thalassaemia in England Transfus Med. 2020 Oct 25. doi: 10.1111/tme.12732. Online ahead of print.
Authors
Sara Trompeter 1 2 , Lise Estcourt 3 4 , Ana Mora 5 , Esther Wong 5 , David Collett 6 , Paula Bolton-Maggs 7 8 , Debbi Poles 8 , Alison Deary 5 , Alison Watt 8
Abstract
Objectives:
To establish, in an unselected population of London haemoglobinopathy patients, transfusion requirements, blood antigens/alloantibodies, transfusion modalities, burden of transfusion reactions and donor exposure.
Background:
Haemoglobinopathy patients are among the most highly transfused patient populations, and the overall population and number of patients on long-term transfusion programmes are increasing. To provide a safe and efficacious transfusion service for patients, it is important to understand current practice, morbidity associated with transfusion, efficacy of different transfusion modalities and geno-/phenotype requirements.
Methods:
Data on 4451 transfusion episodes in 760 patients from 12 London hospitals were collected retrospectively over a 6-month period in 2011.
Results:
Alloimmunisation prevalence was 17% for sickle cell disease (SCD) and 22% for thalassaemia, most commonly anti-Rh/Kell/Kpa /Cw . Rh phenotypes differed between SCD (Ro r 59.8%/R1 r 15.9%/R2 r 15.6%) and thalassaemia (R1 R1 29.6%/R1 r 28.4%/R1 R2 15.4%). Recording of pheno-/genotypes fell below recommendations. A 2-weekly manual exchange and 3-weekly automated exchange came closest to achieving presumptive targets. In adults with thalassaemia, the mean blood requirement was 36 units per year; for SCD, erythrocytapheresis was carried out every 7 weeks with 66 units; for manual exchange, it was 38 units every 4 weeks; and for simple transfusion, it was 30 units p.a. every 4 weeks.
Conclusion:
Transfusion modality choice was influenced by the resources available-children mostly received simple transfusions, and adults received erythrocytapheresis; the relationships between frequency of exchanges/transfusion modality/target HbA% were not simple, possibly reflecting the difference in recipient erythropoiesis and consequent transfusion modality selection bias; adherence to existing and current guidelines regarding geno-/phenotyping was limited; and alloimmunisation had a low incidence and high prevalence in both disorders.
Keywords:
alloimmunisation; antibodies; crossmatch; exchange transfusion; red cell genotype; sickle cell; thalassaemia; transfusion. © 2020 British Blood Transfusion Society. 29 references Full-text links    
11.
Acute Appendicitis in Pediatric Patients With Sickle Cell Disease: Lower Incidence, More Imaging, and More False-Positives J Am Coll Radiol. 2020 Oct 20;S1546-1440(20)31012-7. doi: 10.1016/j.jacr.2020.09.052. Online ahead of print.
Authors
Stephanie Shamir 1 , Carly Schwartz 2 , Kerry Morrone 3 , Benjamin Taragin 4 , Mark C Liszewski 5
Abstract
Objective:
]Patients with sickle cell disease (SCD) experience recurrent pain crises, which may mimic appendicitis. A prior study found a significantly lower rate of appendicitis in patients with SCD compared with national averages. We investigate the incidence of appendicitis and number of imaging studies for appendicitis in pediatric patients with SCD.
Methods:
Using a retrospective study design from a single institution, SCD and control cohorts were created. Inclusion criteria included age 0 to 21years and at least one follow-up appointment within 24 months. Length of observation was calculated from initial presentation to either inpatient admission for appendicitis or last clinic visit. Analysis of an SCD subgroup and a control subset (n = 1,596) was used to compare the number of imaging studies. Incidence rates of appendicitis and number of appendicitis studies were determined. Z-tests, binomial enumeration exact tests, and Fischer's exact tests were used.
Results:
The SCD cohort included 1,064 patients between January 1, 2001, to December 31, 2014, and the control cohort included 115,109 patients without SCD between January 1, 2011, and December 31, 2011. Incidence rate of appendicitis per 10,000 patient-years was significantly lower in the SCD group compared with controls (2.9 cases versus 10.7 cases per 10,000 patient-years; P = .044). Additionally, the SCD group received significantly more ultrasounds (148 versus 60 per 10,000 patient-years; P< .0001) and CTs (94 versus 27 per 10,000 patient-years; P< .0001) for appendicitis, which remained significant when controlling for race. Patients with SCD also received more false-positive scans.
Discussion:
Patients with SCD had a significantly lower incidence of appendicitis than controls, yet had a higher number of imaging tests performed for appendicitis. Appendicitis should be viewed as a less common cause of acute abdominal pain in SCD. This consideration should help guide imaging strategy.
Keywords:
Appendicitis; children; diagnostic accuracy; incidence rates; sickle cell disease; utilization rates. Copyright © 2020 American College of Radiology. Published by Elsevier Inc. All rights reserved. Full-text links    
12.
Early Detection of Acute Chest Syndrome Through Electronic Recording and Analysis of Auscultatory Percussion IEEE J Transl Eng Health Med. 2020 Sep 30;8:4900108. doi: 10.1109/JTEHM.2020.3027802. eCollection 2020.
Authors
Bekah Allen 1 , Robert Molokie 2 3 , Thomas J Royston 1 Abstract Acute chest syndrome (ACS) is the leading cause of death among people with sickle cell disease. ACS is clinically defined and diagnosed by the presence of a new pulmonary infiltrate on chest imaging with accompanying fever and respiratory symptoms like hypoxia, tachypnea, and shortness of breath. However, the characteristic chest x-ray (CXR) findings necessary for a clinical diagnosis of ACS can be difficult to detect, as is determining which patient needs a CXR. This makes early detection difficult; but it is critical in order to limit ACS severity and subsequent fatalities. This research project looks to apply percussion and auscultation techniques that can provide an immediate diagnosis of acute pulmonary conditions by using an automated standard percussive input and electronic auscultation for computational analysis of the measured signal. Measurements on sickle cell patients having ACS, vaso-occlusive crisis (VOC), and regular clinic visits (healthy) were recorded and analyzed. Average intensity of sound transmission through the chest and lungs was determined in the ACS and healthy subject groups, revealing an average of 10-14 dB decrease in sound intensity in the ACS group compared to the healthy group. A random under-sampling boosted tree classification model identified with 94% accuracy the positive ACS and healthy observations. The analysis also revealed unique measurable changes in a small number of cases clinically classified as complicated VOC, which later developed into ACS. This suggests the developed approach may also have early predictive capability, identifying patients at risk for developing ACS prior to current clinical practice.
Keywords: Acoustic; acute chest syndrome; diagnosis; lung; machine learning; percussion; sickle cell disease; stethoscope. 17 references 4 figures Full-text links    
13.
Complications of Central Venous Access Devices in Patients With Sickle Cell Disease and Thalassemia Major J Pediatr Hematol Oncol. 2020 Oct 21. doi: 10.1097/MPH.0000000000001972. Online ahead of print.
Authors
Javier Ordóñez 1 , Agustín Del Cañizo 1 , Cristina Beléndez 2 , Marina García-Morín 2 , Laura Pérez-Egido 1 , María Fanjul 1 , María A García-Casillas 1 , Julio Cerdá 1 , David Peláez 1 , Eduardo Bardón 2 , Juan C de Agustín 1 , Elena Cela 2 Abstract Pediatric patients with sickle cell disease and thalassemia major present clinical characteristics that could lead to a higher incidence of central venous access devices-associated complications (CVAD-C). With the objective of analyzing the safety of the use of CVAD in these patients, a retrospective review including all pediatric patients with these pathologies who required the implantation of a CVAD between 2004 and 2019 was performed. In all, 54 patients with 100 CVAD (65 totally implantable venous access port with subcutaneous reservoir, 35 single-lumen or double-lumen partially tunneled catheter) were included. During 60,410 days at risk of suffering a CVAD-C, 55 complications (complication rate [CR]/1000 catheter-days at risk=0.91) were reported in 46 CVAD: 19 mechanicals (CR=0.32), 32 infectious (CR=0.53), and 4 thrombotic complications (CR=0.066). Incidence of mechanical and infectious complications was significantly higher in double-lumen partially tunneled catheter than in totally implantable venous access port with subcutaneous reservoir (P<0.001). Lower age at insertion was related with a higher incidence of any complication (odds ratio=0.88/y, P=0.02). Patients who required a stem cell transplantation (31 patients and 65 CVAD) had no significant higher incidences of CVAD-C. In conclusion, our study supports the safety of using CVAD in these patients, with a low incidence of infectious, thrombotic, and mechanical complications. Full-text links    
14.
Pain in Youth with Sickle Cell Disease: A Report from the Sickle Cell Clinical Research and Intervention Program Clin J Pain. 2020 Oct 21. doi: 10.1097/AJP.0000000000000889. Online ahead of print.
Authors
Nicole M Alberts 1 2 , Guolian Kang 3 , Chen Li 3 , Patricia A Richardson 1 4 , Jason Hodges 5 , Jane S Hankins 5 , James L Klosky 6 7
Abstract
Objectives:
Pain is prevalent among youth with sickle cell disease (SCD). However, previous research has been limited by small sample sizes, and lacked examinations of developmental differences in pain – which are critical to minimizing the development of chronic pain as youth transition into adulthood. The primary aim of the current study was to compare pain and pain interference across four developmental groups in a large sample of youth with SCD. The secondary aim was to identify risk factors for greater pain and pain interference.
Methods:
Utilizing a cross-sectional study design, the expression and predictors of pain and pain interference was compared across four developmental stages: toddlers/preschoolers (2-4▒y), school-aged children (5-7▒y), preadolescents (8-12▒y), and adolescents (13-18▒y). Participants included 386 youth with SCD and their caregivers. Results:
Caregiver-reported pain and pain interference as well as youth-reported pain interference increased across developmental groups, and plateaued approaching adolescence (multivariate analyses of variance P =0.002 for pain and P<0.001 for pain interference). Elevated fatigue, anxiety, and perceived difficulties with pain management were the most robust predictors of higher youth and caregiver-reported pain (βs ranging from 0.15 to 0.68; P < 0.001) and pain interference (βs ranging from 0.18 to 0.64; P < 0.001). Discussion:
Disease and treatment-related variables were not associated with pain. Self-reported pain was elevated in older versus younger developmental groups, and was largely linked to anxiety, fatigue, and perceptions of pain management, thus highlighting the modifiable nature of factors influencing pain among youth with SCD. Full-text links    
15.
Sophie Uyoga-reducing sickle cell stigma in Africa Lancet Haematol. 2020 Nov;7(11):e786. doi: 10.1016/S2352-3026(20)30332-X.
Author Tony Kirby PMID: 33091352 PMCID: PMC7572120 DOI: 10.1016/S2352-3026(20)30332-X Free PMC article Full-text links      
16.
Randomized Control Trial of Oral Arginine Therapy for Children with Sickle Cell Anemia Hospitalized for Pain in Nigeria Am J Hematol. 2020 Oct 19. doi: 10.1002/ajh.26028. Online ahead of print. Authors
Richard Onalo 1 2 , Peter Cooper 2 , Antoinette Cilliers 3 , Barend C Vorster 4 , Nnebe-Agumadu Uche 1 , Oniyangi O Oluseyi 5 , Victoria D Onalo 6 , Yunusa Zubairu 6 , Alice U Ayodele-Kehinde 7 , Oladimeji M Damilare 8 , Janet Figueroa 9 , Claudia R Morris 10 11
Abstract
Low arginine bioavailability is associated with vaso-occlusive painful crisis (VOC) severity in sickle cell anemia (SCA) and predicts need for pediatric hospitalization. Intravenous arginine therapy has opioid-sparing effects and was found to significantly decrease pain scores in children hospitalized with SCA-VOC in a phase-2 randomized placebo-controlled trial (RCT). Efficacy of oral arginine is unknown. Our objective was to determine the safety and efficacy of oral arginine therapy in Nigerian children with SCA. A double-blind RCT of oral L -arginine-hydrochloride (100mg/kg TID) was conducted in children with SCA-VOC, aged 5-17 years, hospitalized at 2 Nigerian sites. The primary outcome measure was analgesic usage, quantified by difference in the mean Analgesic Medication Quantification Scale (MQS). Secondary outcomes included daily pain scores, time-to-crisis-resolution and length-of-hospital-stay. An intention-to-treat analysis was performed. Sixty-eight children (age 5-17years, mean 10.6±0.4 years; 56% male), were randomized to receive L -arginine (35 patients) or placebo (33 patients). The mean total MQS for the arginine group was 73.4 [95% CI, 62.4-84.3] versus 120.0 [96.7-143.3] for placebo (p<0.001). The mean rate of decline in worst pain scores was faster in the arginine arm versus placebo (1.50 [1.23-1.77] vs. 1.09 [0.94-1.24] point/day, p=0.009). Children receiving arginine had a shorter time-to-crisis-resolution (p=0.02), shorter hospital-stay (p=0.002) and experienced no serious adverse event. Pain control was more rapid, total analgesic requirement was significantly reduced, and most notably, time-to-crisis-resolution and length-of-hospital-stay were shorter in children with SCA-VOC receiving arginine versus placebo. Given the established safety and low cost, oral arginine is a promising adjuvant therapy for SCA-VOC management. This article is protected by copyright. All rights reserved. This article is protected by copyright. All rights reserved. Full-text links    
17.
Evaluation of Longitudinal Pain Study in Sickle Cell Disease (ELIPSIS) by Electronic Patient-Reported Outcomes, Actigraphy, and Biomarkers Blood. 2020 Oct 16;blood.2020006020. doi: 10.1182/blood.2020006020. Online ahead of print.
Authors
Debra Pittman 1 , Patrick C Hines 2 , David Roger Beidler 1 , Denis Rybin 3 , Andrew L Frelinger 4 , Alan D Michelson 5 , Ke Liu 2 , Xiufeng Gao 2 , Jennell White 2 , Ahmar Urooj Zaidi 6 , Robert J Charnigo 7 , Michael U Callaghan 8
Abstract
Clinical trials in sickle cell disease (SCD) often focus on health care utilization for painful vaso-occlusive crises (VOC). However, no objective, quantifiable pain biomarkers exist, pain is not specific to VOCs, health care utilization varies between patients, unreported at-home VOCs likely contribute to long-term outcomes, and patient-reported outcomes are seldom considered. This non-interventional, longitudinal, 6-month study aimed to develop tools to identify VOCs in SCD patients with or without health care utilization. Participants wore an actigraph device, tracking sleep and activity. SCD patients used an electronic patient-reported outcome (ePRO) tool collecting pain, medication, fatigue, and daily function. Patients self-reported when they experienced VOC pain (VOC day). Biomarkers were collected every 3 weeks (non-VOC). Self-reported VOCs triggered at-home or in-hospital blood collection. The study enrolled 37 participants with SCD; 35 completed the study. Participants reported 114 VOC events and 346 VOC days, of which 62.3% and 78.3%, respectively, were self-treated at home. The ePRO and actigraphy captured endpoints of pain, functionality, fatigue, activity, and sleep; each was significantly altered on VOC days compared with non-VOC days. Biomarkers collected at home or in hospital on VOC days were significantly altered compared with non-VOC baseline values, including leukocyte-platelet aggregates, microfluidic-based blood cell adhesion, interleukin-6, C-reactive protein, interleukin-10, tumor necrosis factor-alpha, and thrombin-antithrombin. ELIPSIS: demonstrates the feasibility of accurately monitoring out-of-hospital pain, using patient-reported VOC days as potential endpoints for clinical trials in SCD; showed changes in biomarkers and activity measured by actigraphy that may enable improved identification and assessment of VOCs. Copyright © 2020 American Society of Hematology. Full-text links    
18.
Iron stores in pregnant women with sickle cell disease: a systematic review BMC Pregnancy Childbirth. 2020 Oct 16;20(1):627. doi: 10.1186/s12884-020-03326-8.
Authors
Desmond Aroke 1 2 , Benjamin Momo Kadia 3 , Tsi Njim 4
Abstract
Background:
Gradual improvements in the management of sickle cell disease (SCD), have led to an increase in the number of women with SCD who reach the age of procreation. However, evidence on the iron status of pregnant women with sickle cell disease (PWSCD) remains inconclusive. We conducted the first systematic review on the prevalence, determinants and maternal/foetal outcomes of iron deficiency anaemia among PWSCD.
Methods:
We searched MEDLINE, EMBASE, Global Health, Africa Index Medicus, the Cochrane library databases and reference lists of retrieved publications for studies describing the iron status of PWSCD. The literature search was done over a period of 1 month, with no language or date restrictions applied. Data were extracted on a Microsoft excel sheet. Two authors assessed all included studies for methodological quality and risk of bias.
Results:
A total of 710 reports were identified for title and article screening. Five retained studies were conducted before or during the 90s and included 67 participants. After quality assessment, the observational studies were designated to have a "fair" quality assessment while the randomised control trial had an "unclear" quality assessment. The prevalence of iron deficiency anaemia among PWSCD varied by study design and diagnostic method. The overall prevalence ranged from 6.67-83.33%. None of the studies provided evidence on factors associated with iron deficiency anaemia and the randomized trial reported no difference in outcomes between PWSCD who had iron supplementation and those who did not.
Conclusion:
Evidence on factors associated with iron deficiency anaemia among PWSCD and maternal/foetal outcomes in PWSCD who have iron deficiency anaemia is poor. The studies included in this review suggests that iron deficiency anaemia may be highly prevalent in PWSCD but due to the very small sample sizes and varied study designs, this evidence is inconclusive. The review shows that there is a need for more studies with robust designs and adequate sample sizes to assess the disease burden of iron deficiency anaemia in PWSCD.
Keywords:
Iron deficiency; Pregnancy; sickle cell disease; systematic review. Conflict of interest statement None declared. 36 references 1 figure Full-text links      
19.
Current and novel therapies for the prevention of vaso-occlusive crisis in sickle cell disease Ther Adv Hematol. 2020 Sep 29;11:2040620720955000. doi: 10.1177/2040620720955000. eCollection 2020.
Authors
Ifeyinwa Osunkwo 1 , Deepa Manwani 2 , Julie Kanter 3
Abstract
Individuals with sickle cell disease (SCD) are living further into adulthood in high-resource countries. However, despite increased quantity of life, recurrent, acute painful episodes cause significant morbidity for affected individuals. These SCD-related painful episodes, also referred to as vaso-occlusive crises (VOCs), have multifactorial causes, and they often occur as a result of multicellular aggregation and vascular adherence of red blood cells, neutrophils, and platelets, leading to recurrent and unpredictable occlusion of the microcirculation. In addition to severe pain, long-term complications of vaso-occlusion may include damage to muscle and/or bone, in addition to vital organs such as the liver, spleen, kidneys, and brain. Severe pain associated with VOCs also has a substantial detrimental impact on quality of life for individuals with SCD, and is associated with increased health care utilization, financial hardship, and impairments in education and vocation attainment. Previous treatments have targeted primarily SCD symptom management, or were broad nontargeted therapies, and include oral or parenteral hydration, analgesics (including opioids), nonsteroidal anti-inflammatory agents, and various other types of nonpharmacologic pain management strategies to treat the pain associated with VOC. With increased understanding of the pathophysiology of VOCs, there are several new potential therapies that specifically target the pathologic process of vaso-occlusion. These new therapies may reduce cell adhesion and inflammation, leading to decreased incidence of VOCs and prevention of end-organ damage. In this review, we consider the benefits and limitations of current treatments to reduce the occurrence of VOCs in individuals with SCD and the potential impact of emerging treatments on future disease management.
Keywords: crizanlizumab; fetal hemoglobin; hydroxyurea; l-glutamine; sickle cell disease; vaso-occlusive crisis; voxelotor. 89 references 2 figures Full-text links      
20.
Thromboinflammatory mechanisms in sickle cell disease – challenging the hemostatic balance Haematologica. 2020 May 21;105(10):2380-2390. doi: 10.3324/haematol.2019.239343.
Authors
Nicola Conran 1 , Erich V De Paula 1
Abstract
Sickle cell disease (SCD) is an inherited hemoglobinopathy that is caused by the presence of abnormal hemoglobin S (HbS) in red blood cells, leading to alterations in red cell properties and shape, as the result of HbS dexoygenation and subsequent polymerization. SCD pathophysiology is characterized by chronic inflammatory processes, triggered by hemolytic and vaso-occlusive events, which lead to the varied complications, organ damage and elevated mortality seen in individuals with the disease. In association with activation of the endothelium and leukocytes, hemostatic alterations and thrombotic events are well-documented in SCD. Here we discuss the role for inflammatory pathways in modulating coagulation and inducing platelet activation in SCD, due to tissue factor activation, adhesion molecule expression, inflammatory mediator production and the induction of innate immune responses, amongst other mechanisms. Thromboinflammatory pathways may play a significant role in some of the major complications of SCD, such as stroke, venous thromboembolism and possibly acute chest syndrome, besides exacerbating the chronic inflammation and cellular interactions that trigger vaso-occlusion, ischemia-reperfusion processes, and eventually organ damage. Full-text links    
21.
The molecular basis for the prothrombotic state in sickle cell disease Haematologica. 2020 Aug 13;105(10):2368-2379. doi: 10.3324/haematol.2019.239350.
Authors
Arun S Shet 1 , Maria A Lizarralde-Iragorri 2 , Rakhi P Naik 3 Abstract
The genetic and molecular basis of sickle cell disease (SCD) has long since been characterized but the pathophysiological basis is not entirely defined. How a red cell hemolytic disorder initiates inflammation, endothelial dysfunction, coagulation activation and eventually leads to vascular thrombosis, is yet to be elucidated. Recent evidence has demonstrated a high frequency of unprovoked/recurrent venous thromboembolism (VTE) in SCD, with an increased risk of mortality among patients with a history of VTE. Here, we thoroughly review the molecular basis for the prothrombotic state in SCD, specifically highlighting emerging evidence for activation of overlapping inflammation and coagulation pathways, that predispose to venous thromboembolism. We share perspectives in managing venous thrombosis in SCD, highlighting innovative therapies with the potential to influence the clinical course of disease and reduce thrombotic risk, while maintaining an acceptable safety profile. Full-text links    
22.
Pyridoxamine: another vitamin for sickle cell disease? Haematologica. 2020 Jun 5;105(10):2348-2350. doi: 10.3324/haematol.2020.257998.
Author Marilyn J Telen 1 Free PMC article No abstract available 15 references 1 figure Full-text links      
Meetings for the Sickle Cell Community
New York Chapter of the National Sickle Cell Disease Association of America encourages you to apply for the 2020 SCD community health training hosted by the New York State Sickle Cell Advocacy Network, INC. NYS-SCAN.
If you have a passion for community health, have been personally affected by SCD, or want more education about SCD, this training is for you! Free online sessions will be held for 13 consecutive weeks. Sessions will be held weekly on Mondays from 11 am to 1 pm and Wednesdays from 6 pm to 8 pm. You choose which session fits within your schedule. This series will begin September 28, 2020, via Zoom and will cover 1 topic per week.
The program covers the core competencies of SCD such as facts about SCD, transitioning into adult services, complications, treatments, sickle cell trait, healthy living, emergency guide, information for emergency room providers as well as COVID-19 and SCD just to name a few.
Due to the many impacts of the COVID-19 pandemic, we are mindful of the fact that some wanting to participate in the training may be facing financial hardship. Considering this, we are awarding 45 qualifying participants a registration scholarship. This scholarship will award you FREE access to a 3-month Zoom account as well as training materials that are provided by presenters.
To be considered for the scholarship, registrants must complete the series of workshops. If you have any questions please contact us at 718-712-0873 or via email at qscan08@gmail.com.
Participants, please use this link 2020 SCD Community Health Training Registration. Please be on the lookout for our confirmation email which will include Zoom meeting information.
First IASCNAPA Conference
The International Association of Sickle Cell Nurses and Professional Associates (IASCNAPA) Sickle Cell Conference: Treating the Whole Person scheduled for 4/17/2020 in Memphis is cancelled due to COVID-19 concerns. The decision to cancel the conference took into account many important factors, including the risk of unnecessary exposure to our patient population.
The event is rescheduled for April 9, 2021 at the Memphis Hilton.
Your understanding and support are greatly appreciated! For information go to www.iascnapa.org