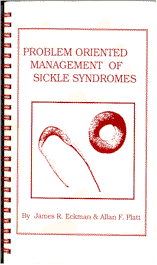 By James Eckman, M.D. and Allan Platt, PA-C
These guidelines are updated copies from the book: "Problem Oriented Management of Sickle Cell Syndromes", originally published in 1991 using grant support from the Genetic Services Branch of the Maternal and Child Health Bureau, U.S. Department of Health and Human Services (Grant MJC-131003-04), The Southeastern Regional Genetics Group (Grant MCJ 131002-08) and a legislative grant from the State of Georgia Department of Human Resources (DHR Contract 427-93-10593).
Sickle Cell Disease In Children And Adolescents: Diagnosis, Guidelines For Comprehensive Care, And Care Paths And Protocols For Management Of Acute And Chronic Complications
Note to Jim and Allan: There are a lot of articles here.  Would you like to take a look at them and confirm that the content does not need to be changed?  
Link to the 44 separate articles on the old site: https://scinfo.org/problem-oriented-clinical-guidelines/